Merry Christmas to all.
I have a setup where I have a few devices on separate VLANs which I want to be connected with a bridge on the router. At the moment, I don't get access to the devices on the other VLAN but I see those devices getting dhcp info, so connection at all works. Also all devices can be pinged from the router itself.
This is what I have: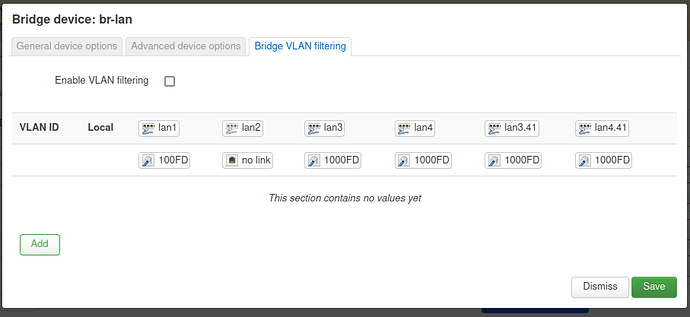 root@fresh2102:~# brctl show
bridge name	bridge id		STP enabled	interfaces
br-lan		7fff.24f5a22d7cc0	no		lan4
							lan3.41
							lan2
							lan3
							lan1
							lan4.41

omv0 is in VLAN 41 on port 4, u-nas0 is in untagged connection on port lan4.
I have my notebook on port lan3 untagged and I can connect to u-nas0, but not to omv0.
Why is that?