Hello everybody,
I currently try to use OpenWrt (version 19.07.7) for the first time. I want to use my FritzBOX 7362 SL as a direct connection to my ISP (Deutsche Telekom). I don't use any switch or other device, I plug this router directly into the wall and want to create a WiFi network with it.
I sucessfully installed OpenWrt on the device as explained here: https://openwrt.org/toh/avm/avm_7362_sl . I also already enabled WiFi. However, when I configure my WAN (with the browser UI), it tells me Error: Network device is not present. This error comes both when the cable from my wall is plugged in or not.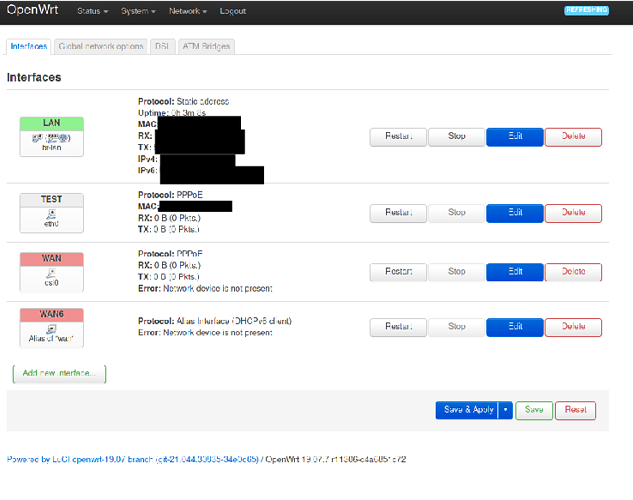 When I try to configure the WAN (User: Anschlusskennung#Zugangsnummer#Mitbenutzernummer@t-online.de, passwort: Kennwort , explained under https://telekomhilft.telekom.de/t5/Telefonie-Internet/Wie-OpenWRT-Router-am-FTTH-Anschluss-betreiben/m-p/2967765/highlight/true#M868204) and not changing anything else at all, I still get the same error. When I try to use logread | grep err I dont get any information at all.
I also tried copying the information for the BNG platform from here: https://openwrt.org/docs/guide-user/network/wan/isp-configurations#deutsche_telekom_bng in /etc/config/network, but I do not really know which fields I have to change because they use an Archer C7 V2.
I tried everything from https://openwrt.org/inbox/support , but I couldn't find much help in the wiki nor in the forum besides VLAN configuration for Telekom - #5 by firefexx , but I couldn't find 'eth1.7' in my router. I also dont know why the WAN is configured with dsl0 and not eth0, I couldn't find anything about dsl0 in the internet.
It would be nice of you if you please could help me connecting to the ISP and know why I get the Error: Network device is not present error. Please tell me when you need additional information, I'm glad to give them to you.
Thanks!