Hello everybody,
I had setup my raspberry Pi 3B with OpenWRT, I can access it through SSH and the LuCi interface. I connect it to Internet through an Ethernet cable using the Ethernet port. I connect a device using one USB port through an USB-Ethernet adapter.
I want to test the case of when my device is not working. To do this I tried to block the access to the port using IPTABLES. Even I block every port and the mac and the IP it's still working.
This is at this point I need some help to understand.
I removed all the firewall on OpenWRT to restart from scratch and I can't create new one, when I create one and apply the change it doesn't add it.

I have 2 interfaces : br-WAN and LAN, but I don't get any IP attributed to the LAN one. The device is still working. I setup WAN at eth0 and LAN at eth1. From the UI it says "Connected : No" for the LAN interface. But the device is connected and I know his IP : 192.168.178.182.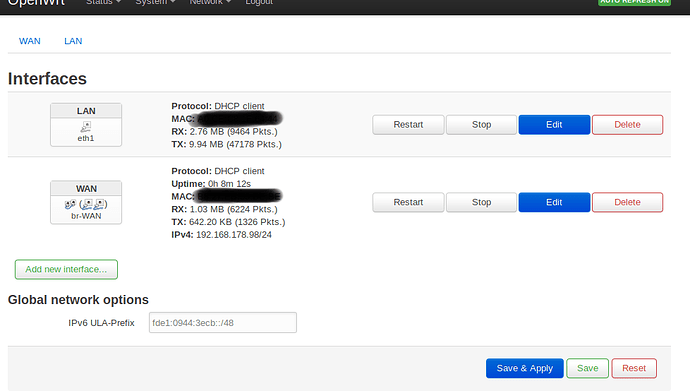 Could you explian to me why the Firewall can't be created anymore ?
Could you explain to me why I don't have an IP attributed to the LAN interface on the UI ?
Could you explain to me why the firewall could not have been applied to my network ?
Thank you !
Alexis