Hi all,
I have the following network topology: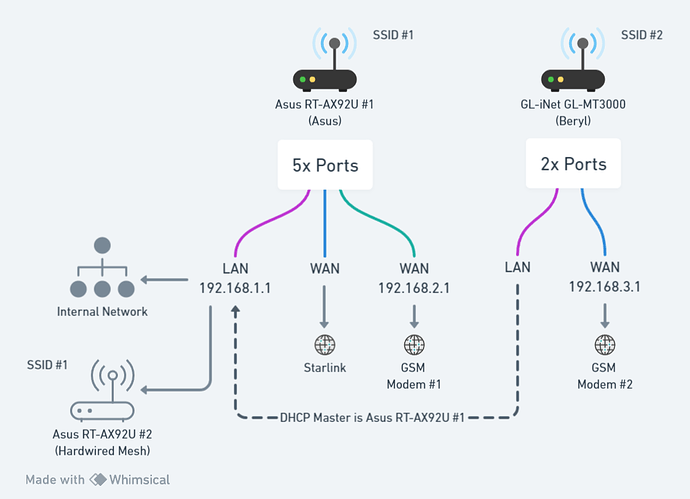 I'm trying to use my Beryl as a 3rd internet connection (GSM Modem #2). Because I live in a 5th wheel and travel, I switch between 3 types of wireless internet connections (Starlink, ATT, T-Mobile). Initially, I was able to get the Beryl to provide connectivity to the 3rd internet connection. Because it only has a single LAN port and a single WAN port, both are in use and so clients connect to it via Wi-Fi by switching over to SSID #2.
I understand this is a unique design, but I have a few reasons for desiring this, for instance I may have a long download or set of Windows Updates, and I would prefer to not use that data on my first two internet connections. Also, if I'm making config changes on my Asus router, the Beryl serves as a backup for my family for an internet connection.
Initially, I setup the Beryl with it's WAN connected to GSM Modem #2 and setup Wi-Fi and it was able to serve internet just fine. The complicating factor is that I'd like for the Beryl to also connect to my local network so that I can access my NAS without having to swap Wi-Fi connections. I've connected the Beryl's LAN port to the Asus and configured this connection to be dhcp as follows:
config interface 'lan'
        option device 'br-lan'
        option proto 'dhcp'
        option netmask '255.255.255.0'
        option ip6assign '60'
        option isolate '0'

config interface 'wan'
        option device 'eth0'
        option force_link '0'
        option ipv6 '0'
        option proto 'static'
        option ipaddr '192.168.3.100'
        option gateway '192.168.3.1'
        option netmask '255.255.255.0'
        option peerdns '0'
        option dns '8.8.8.8 1.1.1.1'

A little progress with this configuration - when I connect to the Beryl over Wi-Fi I have both internet and local LAN access however the internet connection being used is from the Asus but my goal was to use it's local WAN's GSM Modem #2. Also, I can't access the web interface of my modem on 192.168.3.1.
I know that the local WAN on the Beryl works because when I SSH into it and run a "trace route" the connection that's used is the right connection (GSM Modem #2 192.168.3.1) so the design works locally but not for clients connected over Wi-Fi.
I don't know where to go next... I basically need a rule somewhere that routes 192.168.1.x to traffic through the LAN port of the Beryl and everything external through the WAN port.
If anyone has any ideas, I'd very much appreciate the help. Thanks!