Hi all,
I'm having some difficulty ssh tunneling properly into my router so I can access lan services. It used to work, but I changed some settings in my firewall that were incompatible with another service I wanted to expose to the internet.
SS's of firewall settings: (see posts below due to image limit for new users)
The following is the only setting I changed that prevented connecting correctly: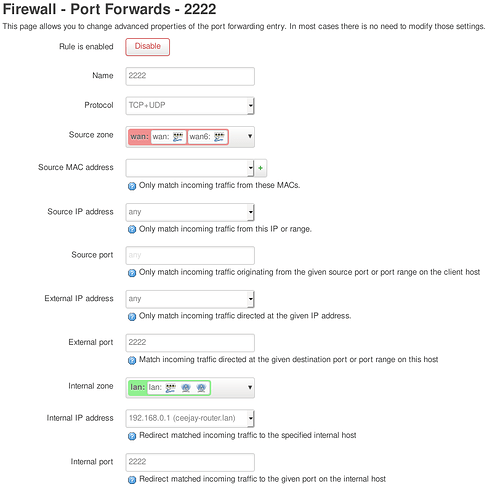 I
believe
I changed the internal and/or the external ports to explicitly be 2222. It worked as expected before this change, but exposed all ports.
Dropbear uses port 2222 and gateway is on.
I've already tried a few different ways to connect to the luci interface as a test.
From LAN: https://192.168.0.1:80 works as expected.
ssh -L 8080:127.0.0.1:80 root@192.168.0.1 -p 2222 -vvv with https://127.0.0.1:8080 does not bring up a luci interface. ssh informs me that it is redirecting traffic to 192.168.0.1
The goal is that if I can SSH tunnel to 192.168.0.1 and redirect the luci interface to 8080 on my local pc, I should be able to do what I'd like to.