Hi, I recently upgraded from a 30/10 cable connection to 120/20 and my TP-Link Archer C7 hit 100% load doing SQM QoS, resulting in ping spikes. I bought a new Linksys WRT3200ACM thinking the 1.8GHz dual core would be capable of keeping latency low despite downloads but I seem to notice the same behavior, with CPU load around 9%. Could it be a software or configuration issue? No Wifi is involved in this case.
What brand/model router do you have?
Linksys WRT3200ACM (same with TP-Link Archer C7)
What version of LEDE are you using?
r2987-25200ae
How do you connect to the internet? Cable? DSL, other?
Cable
What's your nominal/expected/advertised download speed? Upload speed?
120 / 20
If you turn off all QoS/management, what are your measured download/upload speeds?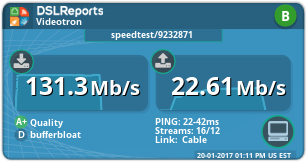 What is the WAN "interface name" in the Network -> Interfaces page?
eth1
What parameters do you see in the Network -> SQM-QoS values?
Enabled, eth1, 100000, 20000, cake, piece of cake, no link layer adaptation

Bufferbloat alternates between 0ms and 500ms every second. Same with fq_codel/simple