My final solution should look like something on this diagramm: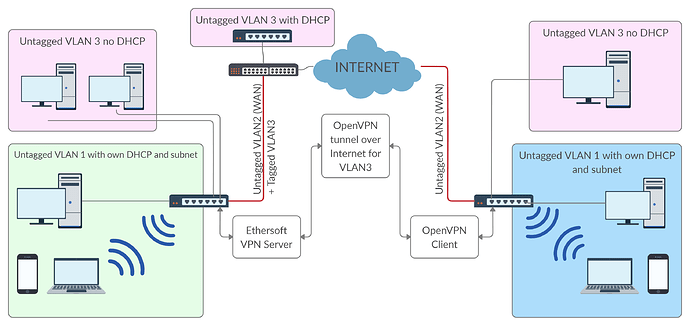 Left and right side are at remote location. Both sides have OpenWrt 18.06.5. On the left I have more powerful router and was able to install Softether server on it. On the right I have TP-Link with less RAM and my option was to have OpenVPN over there. VLAN1 on both sides will not see each other. They connect to the internet through local WAN. VLAN3 should be the same subnet with one main DHCP and machines should see each other like they are in the same physical network.
Left side appears to be working. I can connect to VLAN3 over VPN with my smartphone and my phone gets IP from DHCP in VLAN3. Also, I can see that my external IP is the same as others in VLAN3.
OpenWRT router on the right appears to be establishing a OpenVPN tunnel to the SoftEther at the left. I can see that in Softether management console that session is up and running. Logs appear to be also indicating succesful tunnel.
But, I am unable to bridge this VPN to specific ports on the router so that machines on the right at VLAN3 segment would get IP from the same DHCP as other VLAN3 members. I suspect that problem is somewhere on switch, firewall or interface settings on the right side router.Any advice would e really appreciated.