Hello, I have tried following the instructions on the Wiki VLAN page, especially the "creating driver-level vlans" section, as I was interrested in using a single trunk port on an OpenWRT device, and tag multiple networks on this parent network port/inteface (basically 802.1q). Unfortunately when I created and tagged these VLAN software interface, I didn't really work, there was no traffic coming through them.
I have to mention that the OpenWRT device in question is a TP-Link Archer C7 v5, with a recent snapshot build ( gwlim / openwrt-sfe-flowoffload build) used as a "dumb" AP only. This is an Atheros based device, which has an integrated switch. I have been using LAN port 1 of this device, and the other end where this plugs in, is a Cisco Catalyst switch, which port is set up as trunk 802.1q with all VLANs allowed.
Failing to set up a working "Software VLAN" configuration, I have tried to configure the VLAN IDs (tagging) at the Switch settings in OpenWRT, and tagged the same port for my different LANs, then created separate interfaces for them. Some expample screenshots from LuCI:
LuCI -> Network -> Switch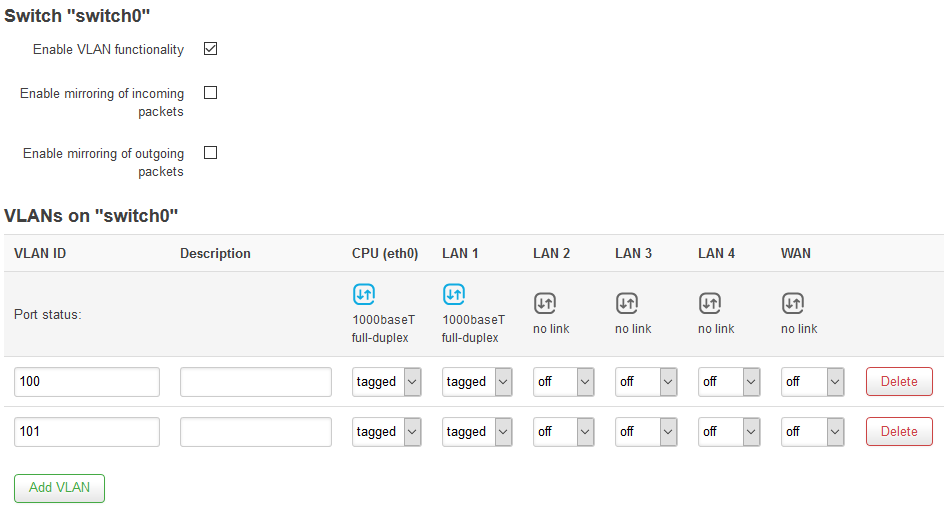 LuCI -> Network -> Interfaces
This mode of configuration seems to be working (well?), however as I understood (wrongly?) that when configuring VLANs on the integrated switch, one physical port of the switch should be tagged with one VLAN only (?). Is this a legit configuration? Will this cause any unexpected issues in the network, going forward?
Thank You,