Hello!
This is my first post here so please be kind
.
My Setup
Here you can see a diagram of my setup: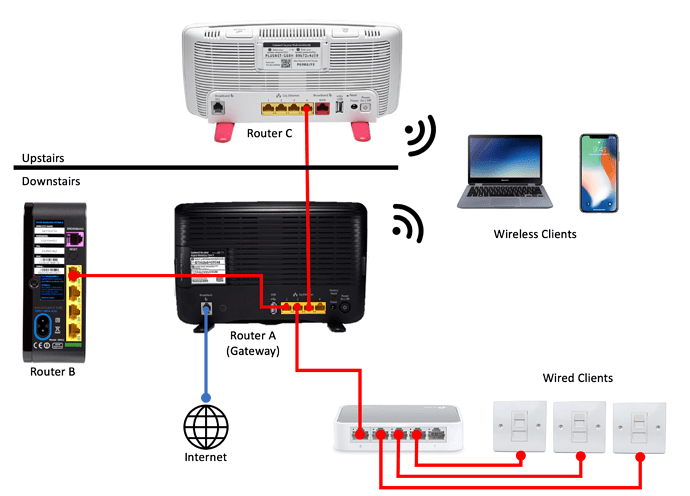 I have three routers. Router A is provided by my ISP (EE) and is the gateway to my network. It is connected to the internet via VDSL and has the IP address 192.168.1.1. It runs the stock EE firmware. WiFi is set up with the same SSID and security as Router C which is also a wireless AP. Wireless clients are able to roam between these AP's freely. DHCP is turned off.
Router B is set up as a dedicated DHCP server. It is a Sky SR102 runnning openwrt. I have the DHCP server enabled on the lan interface giving out IP addresses from 192.168.1.100 to 192.168.1.250. Its IP address is 192.168.1.2. In LuCi I have configured the netmask the same as the gateway (255.255.255.0), the gateway address as 192.168.1.1, and the DNS server also as 192.168.1.1 (so it uses the DNS servers set on Router A - 8.8.8.8 & 8.8.4.4).
Router C is set up as a Wireless AP to cover upstairs. It has the IP address 192.168.1.3. DHCP is turned off on the lan interface so that clients obtain their IP address from Router B. Clients are able to associate to this AP and access the network/internet as intended. It is set up with the same DNS, netmask and gateway address as router 2.
All routers are able to access the internet succesfully as opkg update has succeeded on many occasions.
The Problem
The problem exists between router A and router B. Wireless clients that associate with router C are able to obtain an IP address from router B without any issues. However if a client intitally associates with router A's Wireless AP, or a device choses to roam accross to it from router C in favour of the stronger signal, the client is not able to obtain an IP address from the dedicated DHCP server (router B) or the IP address it obtained when it was connected to router C is not carried accross to the new AP with the device. In essence, router A is not able to supply IP addresses to clients from the DHCP server wheras router C can supply clients with IP addresses from the DHCP server. This means that clients associated to router A eventually self-assign an IP address to themselves and cannot access the internet. Clients can only access the internet via router C.
What I've Tried
From what i understand from my research i need to set a "broadcast address" on the DHCP server in order to advertise its presence to clients (however I could be wrong) though I am not sure what this would need to be set to. I have also enabled the "authoritive" setting since router B is the only DHCP server on the network and also the "force" setting. However neither of these worked. I am limited to the settings I can change on router A as it is the original ISP firmware and does not support openwrt. It is also required as my broadband username and password are hidden deep inside so a third party router cannot be used. However, routers B & C both run openwrt and have LuCi set up for easy configuration.
I really hope some of you are able to help me out and I look forward to hearing from you!!