My setup is a Raspberry Pi 4B with the built in ethernet port for lan and a TP-Link UE300 for wan using a squashfs image which works great with CAKE and so far has been a very positive experience overall.
When I upgraded from 21.02.0 to 21.02.01 today my initial plan was to make a settings backup, download the new stock image and corresponding kmod-mii, kmod-usb-net, kmod-usb-net-rtl8152 (to get the internet connection via usb-lan adapter running), flash/install them, then install the rest of the custom packages via luci and finally restore the settings backup.
Since the "Keep settings" checkbox was selected by default during the sysupgrade, which from my understanding of the keep settings wiki should have been fine since this is a minor version increment and only kept the settings, I was tempted to try it.
The "Skip from backup" checkbox was not selected by default and since I was not familiar with it, I don't remember it from earlier upgrades (snapshot - RC4 - stable) and I didn't see it mentioned in the sysupgrade wiki, I kept it unselected.

After the upgrade was complete I was surprised to find that not only my settings but also the custom packages had been retained. If I remember correctly the upgrade from RC4 to stable deleted the custom packages.
Unfortunately the usb-lan adapter was not working so I tried uploading the new kmod-mii from my local host which gave me the following error message: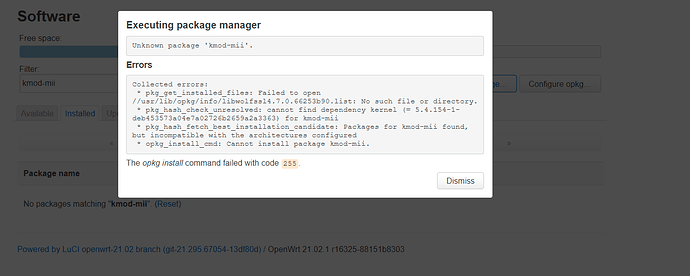 This was unexpected as the release notes said that the kernel was updated from 5.4.143 to 5.4.154 and wolfssl from 4.7.0 to 4.8.1.
From what I could understand there seemed to have been a version mismatch and if I remember correctly wolfssl displayed with version 4.7.0.
My workaround was to reset to defaults and then proceed with my initial plan which had the router back up running within a couple of minutes.
So here are my questions/user experience feedback:
Is it generally advised to unselect the "Keep settings" checkbox and if yes why is it selected by default?
What does the "Skip from backup" checkbox do? Would it have made sure that the correct wolfssl version was installed and if yes why isn't it also selected by default or get's automatically selected when the "Keep settings" checkbox is selected by the user?
Might it be possible to implement tooltips/links to the wiki in the sysupgrade form that explain the checkboxes functions in more depth to the user?
Kind regards.