I'm struggling to understand/manage my network as I want and I just ask for a way to configure it, not how to do, just how to configure it and then I'll make it alone.
Basically I have a router (R4S SW), to this is connect a managed switch (Netgear), and then an Access Point (Netgear WAX206 DSA). Now I'm using 3 subnets and the firewall and DHCP on the AP to separated them, in this way: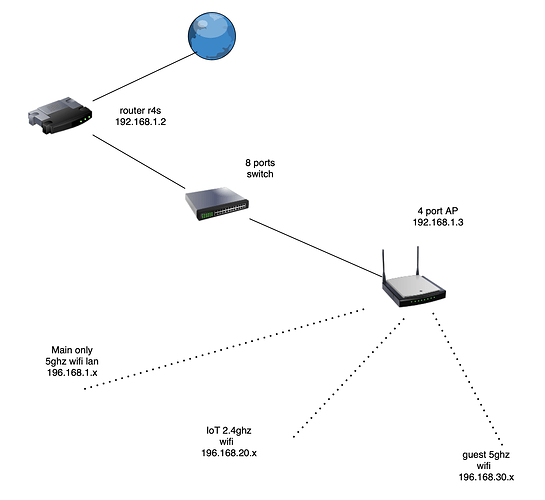 But I would like to extend my main lan from the router to the AP and then add 2 vlan for the iot and guest zones.
And now I don't know what/how to do this. Is better to use two cables from the switch to AP and use one for the main lan and one for the other vlans? Or create them on the router?
I mean this:
Or create the vlans on the router and bring all of them (tagged/untagge) to the switch?
And in both cases, how to use the tagged and untagged? Because every time I tried I ended or to lock out my pc from the router or to don't have access from the guest/iot zones.
Thanks!