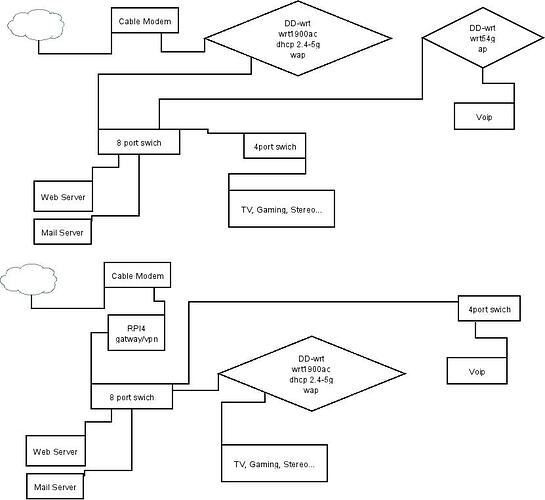 In the above image I have both what I currently have as a home network and what I want as a home network. Being an amateur network admin and a first time openwrt user, my first question is does anybody see anything overtly wrong with my Rpi implementation? If not why cant I get it to work? (retorical)
I have setup the Rpi with a snapshot and configured the lan as per (zahradnik's how to. This setup works as I can access luci through the internal nic when pugged into the wrt1900 using the assigned static 192... ip. I have the wan, realtek gigabit dongle, configured simply as dhcp. It will pull an ip from my isps modem and from within the Rpi I can ping 8.8.8.8 as well as google.com. So that seams to be working.
Now with the wan connected to the modem and the lan connected directly to the lan of the wrt1900 I can ping, and traceroute openwrt from within luci on my wifi laptop but I can not get to http://google.com or cnn.com... This is not an optimal situation and I have not been able to find my flaw in design configuration or implementation. Any suggestions or examples would be greatly appreciated. If you want to see configurations just ask I'll be happy to provide.