The new GlobalScale Technologies device look very promising !
Mochabin-5G
Mochabin is an open source quad-core networking board focused on hi speed connectivity with Wi-Fi 6, 5G, and 10Gigabit ethernet
Mochabin-5G "LIVE ON" @ KICKSTARTER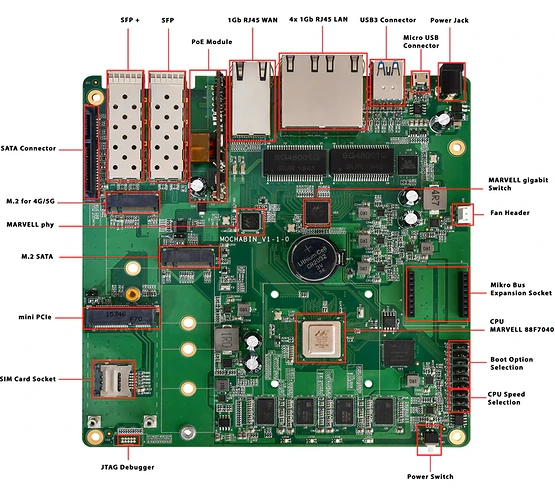 Key Specification and Features
Armada 7040 quad core with 4x ARM72 cores at 1.4Ghz
4GB or 8GB DDR4 (optional soldered down)
16GB onboard eMMC
2x USB3.0
1x 10Gb SFP+, 1X 1Gb SFP
4x Gb Lan, 1x WAN with POE in
1x M.2 for SATA
1x M.2 for Cellular (we have tested 4G and 5G modules available as options)
1x MiniPCIe for Wi-Fi (NXP 9098 802.11ax+BT5 for Wi-Fi version)
1x JTAG 10 pin for programming
1x microUSB for Console
1x MikroBUS 16 pin connector for expansion and accessories
Concurrent Dual 2x2 Wi-Fi Operation
Wi-Fi 6
Bluetooth
Operating Temperature
Host Interface (Wi-Fi + Bluetooth)
UPDATE :
MochaBin-5G Product Page @ GlobalScaleTechnologies
UPDATE2 : Revision of the block diagram !
UPDATE3: I am not affiliate in anyway with GlobalScaleTrchnologies, Marvell, or any competitors company.
My ideas are only personal and try to stay as neutral as possible, with technical experiences and knowledge sharing in mind...
UPDATE4: Quick UnBoxing@CyberMind.FR