Hi!
I have a WCR-1166DS with OpenWrt 19.07.2 (last stable available for this one).
I use it as dumb ap, WAN port is unconnected
LAN port is connected to my LAN.
I wanted to set a guest wifi AP using VLAN (it works great on a different device I own, also on openwrt).
The issue is that I cannot get the LAN port tagged in Luci.
it kind of break the connexion and luci revert to previous config.
it seems the device has only one eth interface (eth0).
eth0.1 (lan) & eth0.2 (wan) are set by default after fresh install of openwrt.
I added VLAN 11 & 22.
if I set LAN port to "tagged" either on VLAN11 or 22 and click "save & apply", it will wait 30sec and then propose to revert.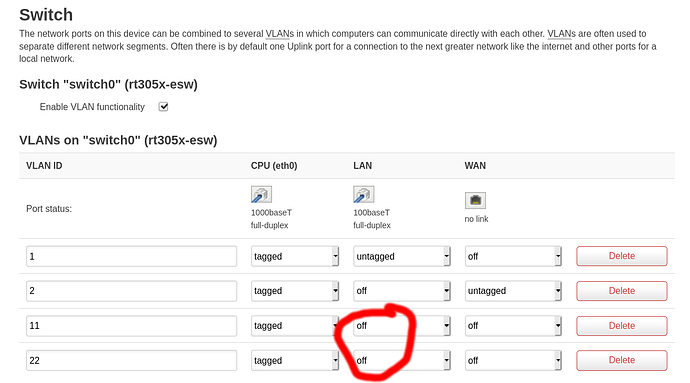 On the other hand, it allows me to set "tagged" on WAN column for VLAN 11 & 22.
Do you have any idea why LAN does want to be tagged ?
if it's HW bug, as a work around, do you think I could plug my cable in WAN port instead of LAN and set the switch this way: