Hi everyone,
I am trying to setup a wireless network for guests.
The following sketch shows what I would like to achieve: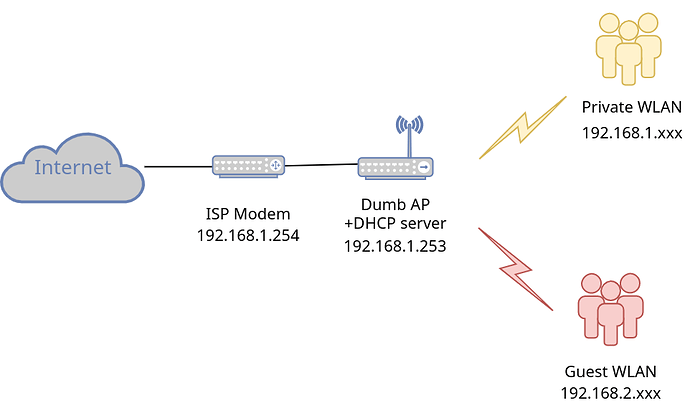 The modem by my ISP is basically doing nothing except being connected to the internet.
Unfortunately I cannot bridge this modem.
My router is running openWRT v19.07.0-rc2.
Currently the private WLAN is working fine, I get a DHCP IP in the 192.168.1.xxx range and I can
browse the internet.
However I would like to have a seperate WLAN for guests in the 192.168.2.xxx range.
I set up a second WLAN AP with DHCP enabled on it.
When I connect to the 'guest-wifi' I do get an IP address in the 192.168.2.xxx range.
However I don't have access to the internet.
I tried following the following articles:
https://openwrt.org/docs/guide-user/network/wifi/guestwifi/guest-wlan-webinterface
https://blog.doenselmann.com/gaeste-wlan-auf-openwrt-access-point/
and I had a look at an article:
steven-england.info/2014/11/01/openwrt-how-to-create-a-public-network-without-using-the-wan-interface/
which isn't quite the same setup.
I tried pretty much all the firewall configurations mentioned in those articles but to no avail.
If anyone has any ideas that would be much appreciated!