Hi there,
I'm trying to distribute a couple of networks around the wired LAN in my house. There will end up being two networks on the LAN, untagged traffic being Network 1 and VLAN 11 traffic being Network 2. I am trying to configure my DSA enabled OpenWRT device to work with both of these networks.
The untagged Network 1 already exists, another router in the house provides DHCP addresses in the 192.168.0.0/24 range.
The VLAN 11 tagged Network 2 will be served DHCP addresses by my OpenWRT device in the 10.0.10.0/24 range. It will be NATted to Network 1 (yes, this will result in a double NAT).
The OpenWRT device has WiFi and 3 devices provided by DSA on the 3 port gigabit switch:


I also have two bridges configured: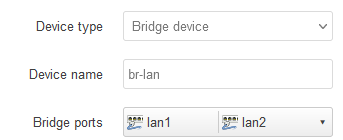 I finally have the default LAN and WAN interfaces configured to use these bridges. Each interface also has two WiFi networks configured (2.4GHz and 5GHz each) so that I can access both the NATted Network 2 (10.0.10.0/24) and the WAN Network 1 (192.168.0.0/24) through this OpenWRT device on respective WiFI networks:

This setup works perfectly. I am able to access both Network 1 and Network 2 through this OpenWRT device using the respective SSIDs configured for them. However, I wish to also provide access to Network 2 (10.0.10.0/24) through the wan device on VLAN 11, which I have not yet been able to achieve.
I have tried various combinations of bridge devices with VLAN filtering and virtual ethernets for VLAN under 802.11q, without much success. I have tried so many combinations I have unfortunately lost track.
How can I provide access to Network 2 (10.0.10.0/24) via the wan (or maybe br-wan?) device on VLAN 11?
Thanks!