Hey everyone.
Since upgrading from latest 21.02 release to 22.03, I'm seeing a 1.5-4x increase in CPU load across all my devices (router, wifi APs, wifi bridge/repeater), at least the normal "idle network" condition.
I can tell this is consistent since I'm monitoring my nodes and have full grafana history for typical load-curves, and it's obvious as it gets when graphed out like this: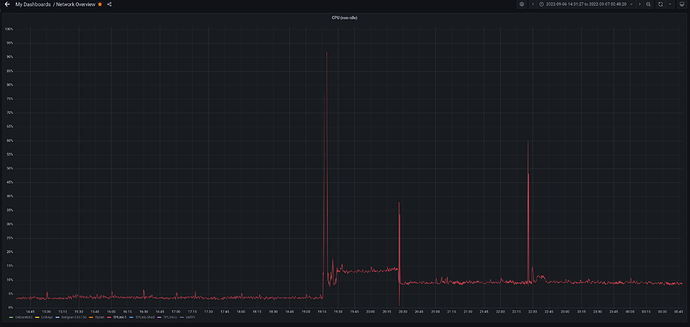 This is for my "main" AP in my home-mesh, but all other OpenWRT devices are showing a similar increase in base-load, while otherwise idle:
| Unit | Before | After | Factor |
| --- | --- | --- | --- |
| TPLink Archer C7 | 3% | 9% | 3x |
| TPLink Archer C7 | 1.2% | 4.8% | 4x |
| TPLink Archer C7 | 1.2% | 3.6% | 3x |
| LinkSys WRT1900 ACS | 0.5% | 1.0% | 2x |
| Netgear EX6150 | 1.75% | 2.5% | 1.5x |
So everything from a 1.5x increase in idle load to almost 3-4x. That's quite a dramatic change!
Is this to be expected? Is this a side-effect over all services now being run through ujail?
Or have people simply not noticed, since they aren't graphing/monitoring their units like I do?
While all my devices are currently managing "fine", I'm curious about how this will affect the capability and capacity of the unit under actual load.
If the base-line increase while mostly idle is 3-4x, should I expect the same under load? I.e. that something which used to cause 10% CPU usage will now instead cause 30-40% CPU usage instead?
In short: Should I be worried?
Edit: Also posted on reddit.