Hi there!
I'm trying to do something like this
https://forum.archive.openwrt.org/viewtopic.php?id=54722&p=1
I'have 3 old TL-WR740n v4.20 and I wanted to use the led of the router as relays outputs.
First I've set it to wireles client, and went to System/Leds and renamed some unused leds to out1 to out6. Also set the led trigger to none
after that I found out that in SSH i can get some led status by
# uci get system.out1.default
and i can turn a led on or off with (1 to on, 0 to off)
# uci set system.out1.default=1      
# uci commit
# /etc/init.d/led restart

felling happy I started to create the web ui to control the leds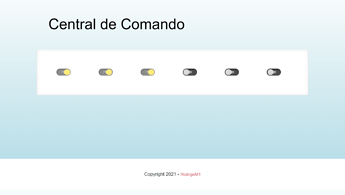 very simple:
six forms
each one get one checkbox with a onChange="this.form.submit()"
so here begins my problem: i couldn't make the script work. I've made a lot of scripts to the formAction but none worked.
then I gave up and tried crelay... unsucessfully. It is almost what I need, but is focused in Usb Relays boards.
I want to use my routers leds, some old relays and transistors that I have at home.
my device doesn't have a lot of free space, only 68kb. (it is trashy, but not useless)
Now I'm back in the beggining with almost nothing.
Could somebody help me with this? if you do only one I can do the others.
what I'm trying to do is:
get the led status, dispay the checkbox accordingly, and toggle the led. without any packages besides the ones already compiled. uHttpd, luci and etc
If this work, I'll do the eletronics after.