Hello everybody!
I get Aerohive AP350 and want to install OpenWrt.
I tried to follow this steps How to install on Aerohive AP350?.
But I stucked on the first step.
I'm using
pl2303 USB-UART adapter.
putty
windows 7
First what that I did - make RJ45 adapter following schematic Ap340 documentation.
RJ45
3->TXD;
4->Ground;
5->Ground;
6->RXD
But it didn't work.
I supposed that console port is not compatible with pl2303's UART.
Then I make decision to solder wires directly to onboard pins.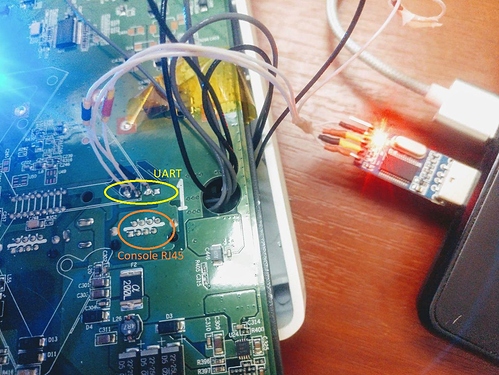 And it works!
But it required a password...
Passwords that I tried to enter:
AhNf?d@ta06
aerohive
hiveap
admin
password
and just press enter button
But non those works.
Can anybody help me?