I can't find the price of it (yet).
Its getting launched next week, no idea why they even posted the video.
This router looks demential but the quad core arm you think it is 4x1.4ghz arm cortex a53 like a little nanopi
Looks like IPQ807x or IPQ60xx series, but nobody can know at least until FCC ID is public
is it supposed to be a real, powerfull router with wifi6 option ? or an AP ?
They said "dual chain" so 2x2...nothing incredible here...
and during the speedtest, at 20cm, the result is the same as a wifi AC
Also why no 2.5gb ports ?
for the moment, without even knowing the price of this new AP, I think that the WAX206 at 89€ remains more interesting. when we will be able to convert it to openwrt of course.
I was thinking the same, closed the youtube clip once I saw it had 1gbit ports ...
It should be doable, but I'm not competent enough to make it happen
(Someone) need to figure out all the DTS stuff, and how to add the Realtek 2.5GbE to the image,.
It's getting removed from the menuconfig/.config, when you switch over to the Mediatek chipset in menuconfig, it's not enabled for all targets.
I'm really hyped for this!
Another 2 new devices :
Chateau LTE18 ax and Chateau 5G ax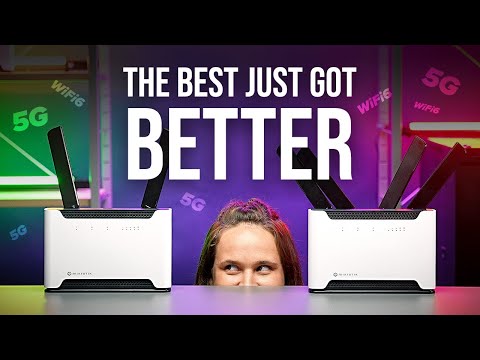 This time :
Quad core ARM
1GB RAM
4x4 mimo
1x 2.5Gbps ... only one

4x 1Gbps
Excited to finally see some ax hardware from Mikrotik, their boards have always been a good fit for OpenWrt.
HW-wise yes, but they really do everything in their power to prevent anything else other than ROS running on them
True, hopefully there's no new "surprises" in the IPQ-6010 boards.
C52iG-5HaxD2HaxD-TC specs: ipq6010 864 MHz / 1GB / 128MB / qcn5052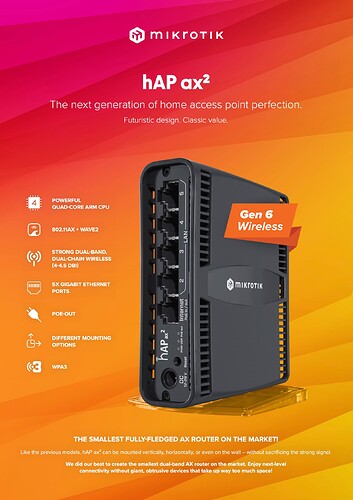 CPU is clocked at 1.8GHz if its IPQ6010, but if the price is OK then it will be a good buy as they did not skimp on RAM
where are you see that ? thanks
It's simple, if the CPU is actually IPQ6010 then it runs up to 1.8GHz dynamically, not 864MHz.
Not bad price
Only IPQ6000 is rated at 1.0 GHz, IPQ6010 and IPQ6018 are rated at 1.8GHz.
you're right, i can see a device sold on aliexpress with a 6010, clocked @1.8ghz here
it's weird why Mikrotik is saying 864Mhz only...There is something to clarify here...