I have a feeling that this thread is neglected
Rc4 is ready.
Anyone has installed it?
I use Rc1.
Installed. No problem at all
Because the AX3600 got discounted heavily and now costs almost the same as AX3200.
There is support for ax3600?
I'm having a weird issue where occasionally the 2.4 GHz band stops working and all devices disconnect, 5 GHz stays on throughout. This is happening with rc4 but has been happening with all the release candidates. Anyone else experienced this?
Nice, that did indeed work. I stripped some power cables and twisted them to make sure the contact would work. I thought it would need some fiddling but I had a connection at the first try: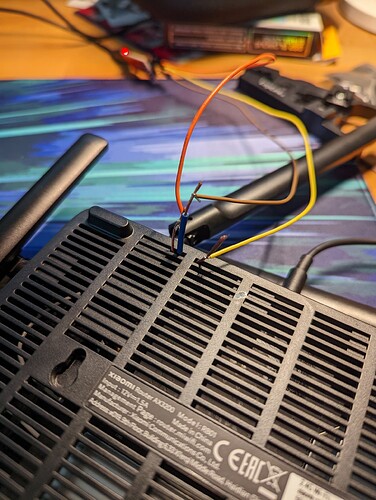 I was then able to get UART access by following the instructions described in 513. Thanks everyone! What was a bit weird was that the NAND erase was performed twice for the same address space, but I looked it up in the partition table and it was indeed the firmware partition.
Congratulations to the guys who have been working on OpenWRT for the AX6S.
Running 22.03.0-rc4 for a few days, and so far, everything is working perfectly.
Thanks hacks!!!

Thank you developers!!!
ps: MACVLAN is fine!!! Maybe prevent the creation of (VLAN 802.1q) for "virtual" macs addresses using Luci??
Yeah the -rc4 is running as smoothly as -rc1 on several of those with 802.11r enabled on both 2.4GHz and 5GHz
Hi guys, I flashed the Chinese version of the router AX3200, RB003 according to the instructions, after the firmware Radio1 (5Hz) does not start, and the MAC address is constantly changing, and also when I try to make a sysupgrade, the router turns into a pumpkin, I apply the recovery procedure (Tftp + Reset). Tell me what could be the reason?
When loading, an error occurs:
Direct firmware load for mediatek/mt7915_eeprom.bin failed with error -2.
Is it related to the EEPROM reading error?
Hi,
My device had the same issue. I have installed the driver manually, not sure why I had to do so. See my post.
Thank you, I'll check it out in the near future, I see you updated the file, what version of the openwrt assembly did you have installed when you updated the file ?. Sysupgrade you get to do when you changed the radio1 driver file?
Why is this happening, does the version for China mean it is made with different internal components?
Just double-checking: the Chinese version is named "Redmi AX6S" and it is model RB03.
Is this one you have? I and many other people have flashed this device without major issues (I have three of these devices running OpenWrt 22.03-rc4 without any major problem).
I've had the same issue as you, with a brand new AX6S on both rc4 and snapshot. I've used @redshifted 's trick but while the interface comes up, it's super flaky and nothing can really connect to it.
ax6s on rc4, it works for some time, and then all device connected gets this "connected device cannot provide internet" for all the devices connected, and i had to reboot the router for it to start working.