Hello, I am running Openwrt on an asl25666. the firmware is OpenWrt 18.06.4 r7808-ef686b7292
this is my first experience with openwrt.
my current setup is the openwrt router as AP connected to my main router by Ethernet.
I have installed the adblock and the luci-app-adblock as the wiki says. I have installed also libustream-mbedtls and libustream-openssl (I do not know if they are concurrent) and luci-ssl-openssl, ca-bundle, ca-certificates following these theads: https://mhotspot.com/blog/how-to-block-ads-on-all-devices-via-openwrt-router-using-adblock-package/
[Solved] Adblock on LEDE 17.01.4: does not load blocklist sources
here is an screenshot of my configuration: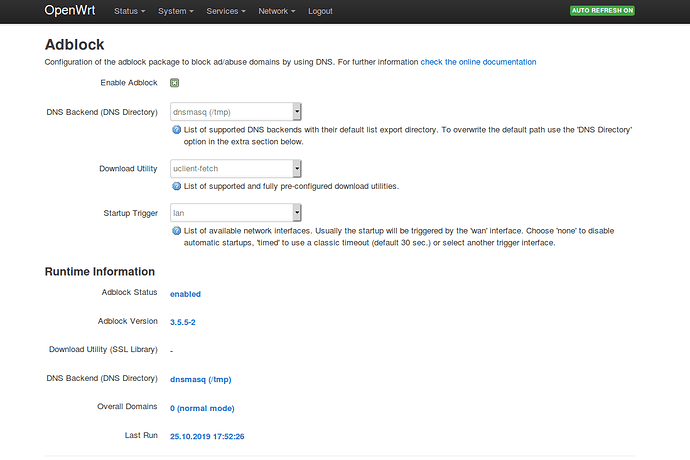 when the router starts I get following log:
Fri Oct 25 17:52:26 2019 user.err adblock-3.5.5-2[945]: 'dnsmasq' not running or not executable
Fri Oct 25 17:52:27 2019 user.err adblock-3.5.5-2[945]: Please also check '/github.com/openwrt/packages/blob/master/net/adblock/files/README.md'
when I try detectadblock it shows me that I am allowing ads.
what can I do?
Thank you