Hello!
I actually have an open ticket under the "development" queue asking if MWLWIFI driver update are included in the latest stable public build 19.07.03.
The reason I had a particular interest in this is because there was a comment that 802.11r seems to be working. I heard before that this isn't working due to issues with the mwlwifi updates for both my WRT1900ACSv2 and WRT3200ACM.
Regardless of the feedback from that topic, I have some known issues now for which I have made this new topic. I have setup a roaming SSID "ConVince-Roaming" using this forum post as a guide 802.11r Fast Transition below is my config: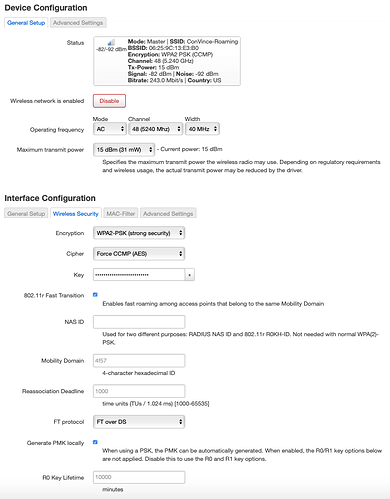 The issue I have is that my macmini is able to successfully connect but not my iPad pro and iPhone despite these devices supporting 802.11r as described in this Apple support page:
On my iPad when I join the roaming SSID immediately after entering password I get the error "Unable to join Network"
Hope you guys can help me with this. Thanks much in advance!
Sincerely,
Vince