According to Netgear's website it seems to look exactly like old RAX120
Just had a look and there's no GPL released yet by Netgear for the WAX214 so that doesn't help.
When they do, it will more than likely benefit the Xiaomi AX1800 as it's IPQ6018 based also.
So Linux 5 support mt7915? Then we need to wait until that support gets to OpenWRT?
Or how is the process?
mt7915e (keep in mind that mt7915e/ mt7921e are still very new and driver support for them is still in its early days) should be supported on OpenWrt/ master already, which uses more recent backports versions (and mt76 is updated even more frequently).
Does anyone know something about the used chipset for Honor Router 3?
In Germany you can buy it currently for about 35 €.
Hi guys. What ax router I can buy now to be sure it will be fully supported in next OpenWRT stable versions?
I have some TP-Links (archer), Netgears, Honors, and Xiaomi Redmi AX5/AX6 in my local store.
As I understood, Netgears are based on broadcom, what's why it is not a great choice, am I right?
Also I need CPU as fast as possible to run some services on it.
I fear, nobody can tell it now. Buy the one you like and later change it to a supported one.
The columns have a search box, you can write "ax" there but the ones listed are not supported in any way considered stable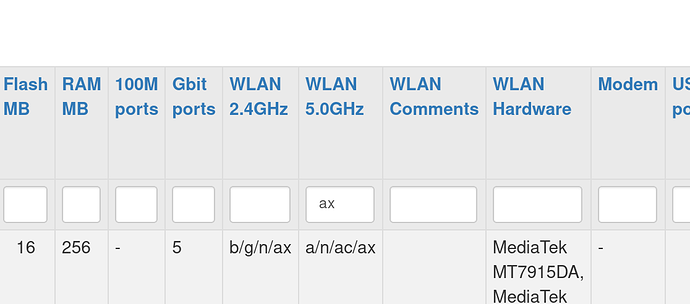 Well, I had found one at least: TOTOLINK X5000R
Thanks. Don't know why, but this filter didn't work for me once, that's why I ask.
but the ones listed are not supported in any way considered stable
Hmm, but why this table is called "Ideal for OpenWrt" then
So the Belkin RT3200 is available at least in UK, so hopefully in EU, i like that it does not have any external antennas.
I think that label applies to the amount of flash and RAM those devices carry.
Just bought a Linksys E8450 and flash to OpenWRT, but it seems no support for the AX protocol now? or it is just a problem on Web GUI? how to enable the AX Wi-Fi by configuration file?
E8450 (mt7622 target) was just added, it's in very early development and doubt WiFi 6 / AX works yet. It's a long way off until any target emerges as the 'right' one to buy for OpenWrt with WiFi 6. We'll have to see how development goes, hopefully over the next year or two, whatever release follows the eventual 21.02 release.