Yes, openwrt-ramips-mt7620-xiaomi_miwifi-r3-squashfs-sysupgrade.bin via browser
I have selected the kmod modules ( * - built-in) and flashed again, and the result it's the same before the flash, kmod modules don't installed and same kernel version,
It looks like it wasn't even done. What am I doing wrong?
I don't know. Do a research, solve and post here for us. Good luck.
Some type of "silent error" because some package i have installed, then i do a factory reset (firstboot), reboot and sysupgrade.
Thank you anyway.
I have compiled latest stable OpenWrt 19.07.4 with kernel 4.14. We couldn't install some packages before, because it was nightly snapshot OpenWrt firmaware.

How to install
link.
Hey @romandas thank you for sharing your rebuild and the link how to install. - I flahed my a very long time ago. I think used the tool prometheus. Could you maybe give me a feedback what's the best way to continue? Flashing to original and back or is it possible to switch directly? I logged in again and here are my data information from status tab:
Hostname
MyDarkThawts
Model
Xiaomi Mi Router R3
Architecture
MediaTek MT7620A ver:2 eco:6
Firmware Version
OpenWrt SNAPSHOT r7215+43-a8d516c4a7 / LuCI Master (git-18.156.40018-80f1877)
Kernel Version
4.14.48
Local Time
Fri Jun 29 22:16:39 2018
Uptime
0h 5m 32s
Load Average
Your router runs OpenWrt, but I don't know, what prometheus is, what modifications it did make. So safest way is to go back to original ant start the procedure. But If you aren't afraid to brick you router, you can try to upgrade via browser with openwrt-ramips-mt7620-xiaomi_miwifi-r3-squashfs-sysupgrade.bin and select not to keep settings. Your wifi will not be working at once, so you must connect via lan cable and setup if everything is ok.
But don't hury. Seams something is wrong with firmware. I removed the link.
I'm happy & brave to test as well.
i also got the same problem ... is there a solution?
Can you please tell the shortcut some place on the pcb under the cpu ..? in order to gain access to the console
You mean this?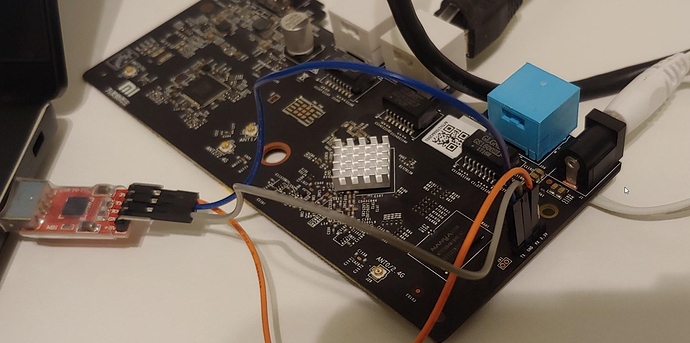 .
CP2102 adaper connected to motherboard. Than PuTTy on serial connection. Then you boot you device and in 4 seconds press button 4. And you are logged in to routers console.
unfortunately it's not working for my device
You have done, like in picture? What is happening?
yet ... nothing to do lan all not working and the console too
I want to help you, but you must give me more informafation, what you do. Ask questions. Make a photo, how you connected wires to UART/TTL. Because you must connect rx to tx and tx to rx. I also had only Led lights blinking, Lan not working, but I managed to bring it back to life.
I have done everything ... it looks like access to the console is no longer usable. The only way is to install the SPI Flash Mod
You don't get any line from ttl connection, only black screen? Looks like maybe you erased bootloader then. Write what you have done, before this happened.
After changing my RAM-Chip from 32 MB to 64 MB on my TP-Link WR740, WA701 devcies I have exaktly the same situation like @zein-zc describes. There is only a low shinning green LED on LAN1 to see if you put PowerPlug into the devices. I did it like described in a Tutorial for WR841 devices. The ROM was changed before from 8 MB to 16 MB SPI you describe here and it ran under 32 MB RAM-Chip. Unfortunately now I have a few letter weights laying arround and it was clean soldered in a company for PCB-Stacking nearby. So I guess there was no mistake after soldering and didn't see any shortcuts or not good connected PINs etc... So I am bit unhappy about the non-working half-professional extend-try.
But back to this topic @zein-zc I guess you need to shortcut or unprotect UART-Mode somewhere like it was also necessary on EB802, EB803 and so on... there is usually unfortunately always a bit of a mess to bring devices back to life.
If you see no line's in CLI and did already change RX/TX Pin I am pretty sure your CPU did unfortunately die and there is no good economical way to repair it...
hi, I bricked my bootloader becouse of flashing pandorabox bootloader. Can you help me to restore the router? i need spi conversion, so full dump of spi.