Hello,
I am not familiar with encryption and network technologies.
Since OpenWRT is really well documented, I got along well so far.
But now I have a (probably pretty stupid) question I couldn't answer myself.
I know that CCMP is the safer encryption protocol and TKIP is not recommended, but in my wireless config I have found the option "Force TKIP and CCMP".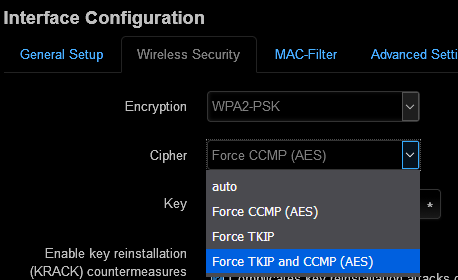 So does this mean my WIFI will offer TKIP e.g. for older devices and CCMP parallel and my wireless security is weakened by this option or does this mean that both protocols are used simultaneous for every connection and security is improved?
Thank you for reading.
Greetings
Florian