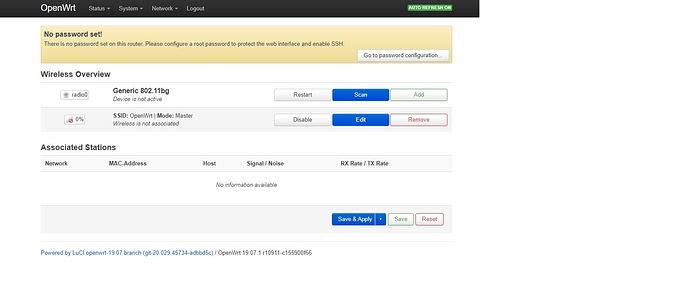 router d-link 2760u
cpu BCM63281
ram winbond
flash 25q64
wireless chip BCM43225
like router https://openwrt.org/toh/zte/zxhnh108n
You haven't said if this is just claiming that it's not associated or if it's really not associated.
Do you have clients connected? Is the wireless SSID visible to your clients?
Please expand on your post a little
I'm sorry but I'm upgrade new router from stoke soft to openwrt soft and wireless get this message -the wireless SSID unvisible
@hamadanet, welcome to the community!
Please provide more information. Also please be advised that OpenWrt has WiFi disabled by default.
Did you enable WiFi?
After enabling WiFi, did you connect a device to the AP?