Hi All,
Nonametr is here. Long time user of OpenWRT/LEDE and first time commenter (please go easy on me).
I have a My Book World Edition (white light) and I have been looking at the supported hardware for LEDE. I understand My Book Live is supported and am just wondering if anyone have tried (or better succeeded) installing LEDE on their WD My Book World Edition (I understand both World and Live have similar hardware?)
Curious to find out about your experiences on the subject..
if anyone interested in seeing the boot logs, I have uploaded them here https://pastebin.com/9VwspUre
CPU info
`
~ # more /proc/cpuinfo
Processor : ARM926EJ-S rev 5 (v5l)
BogoMIPS : 183.09
Features : swp half thumb fastmult edsp java
CPU implementer : 0x41
CPU architecture: 5TEJ
CPU variant : 0x0
CPU part : 0x926
CPU revision : 5
Cache type : write-back
Cache clean : cp15 c7 ops
Cache lockdown : format C
Cache format : Harvard
I size : 32768
I assoc : 4
I line length : 32
I sets : 256
D size : 32768
D assoc : 4
D line length : 32
D sets : 256
Hardware : Oxsemi NAS
Revision : 0000
Serial : 00000acbcd2c2780
`
and this is how it looks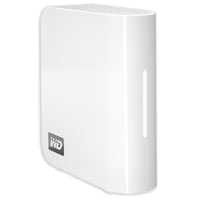 Also I am aware of the wikidot page (http://mybookworld.wikidot.com) and used it successfully for a few improvements (eg: installed a 2 TB disk, upgraded the Twonky etc) so please save us both time and don't suggest that I should look at that
Thanks in advance for your help.
edit : typo
edit 2 : change the title to reflect the topic.