Hi All,
I setup openwrt on an old TP-Link and setup vlans as follows: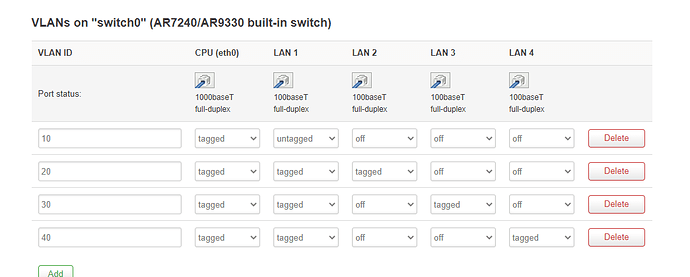 The ports on this are then plugged into a netgear switch - running the manufacturers firmware...
tp port 1 is plugged into netgear port 19 vlan 10
port 2 is 20 vlan20
port 3 is 21 vlan30
port 4 is 22 vlan40
wan on tp link is on netgear port 23. - no vlan
If I plug in a laptop direct to TP on a port, i get an IP in the correct range based on DHCP for that port /vlan running on openwrt.
When i connect it to the netgear, i got confused in tagged/untagged and now regardless of what i set on netgear, my laptop will always get an IP from the core router dhcp rather then one from openwrt ( they are different ip ranges - core router is 192.168.1.x , the tplink port 1 is 192.168.10.x port 2 is 20.x and so on.
Where am i going wrong with tags?
in the images above, i want the device connected to netgear port 7 which is vlan 20, to get an ip from openwrt vlan 20 - which is port 20 on netger port 2 on the router?