I'm running 21.02.5 on a Linksys WRT1200AC.
The test setup:
This is the test setup I'm working with: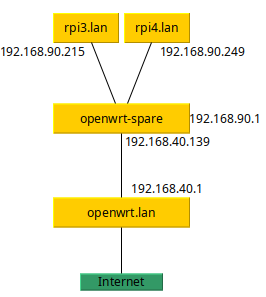 The device of interest is openwrt-spare.
On the rpi3 I run: tcpdump -ni eth0 host 192.168.90.249.
On the rpi4 I run: tcpdump -ni eth0 host 192.168.90.215.
Or in other words, each pi will print any traffic it sees that's destined for, or originates from, the other pi.
Default behaviour
In the default configuration with the LAN interface containing devices lan1 - lan4, each pi can download things from the internet, ping the router, and similar, without network traffic being seen by the other pi. They can also send traffic directly to one another.
The problematic configuration
I create a br-trunk interface, assign devices lan1-lan4, then set both pi's to the same VLAN (untagged) -

For the LAN interface I also switch the member device to br-trunk.10 only.
Now, any network activity of either pi (or the router itself using the 192.168.90.1 IP) is broadcast to all devices on the VLAN.
What I'm expecting
I thought that within the VLAN OpenWrt would still switch traffic. Have I configured this correctly?
What I want is to have one of my lanX devices be a VLAN trunk to another device, but OpenWrt is broadcasting VLAN traffic to all ports configured for a given VLAN. Is there another way to do this?
Thank you!