Hello community,
I have a good old Dir-825 that was flashed with OpenWrt since 2014. Later used as a WiFi Repeater and recently as an ethernet connected AP only to discover I don't really know how to configure WiFi Vlan after watching countless video and browsing.
Currently running the latest 21.0 Firmware, dnsmasq and firewall are disabled.
Ubiquiti ERX Router
1.1 ETH0 connects to Modem
1.2 ETH3 connects to Unmanaged switch (may upgrade later to a managed one) | PVID = 1 | VID =
6,7
1.3 ETH4 connects to a Unifi AP. | PVID = 1 | VID =
6,7,8
HomeNet is on 1, Guest Net is on 6, IOT Net is on 7
A LAN cable from the Switch goes to the DIR-825 Lan port. Interfaces configured below and successfully gets the correct IP subnet. Interface and VLANs config: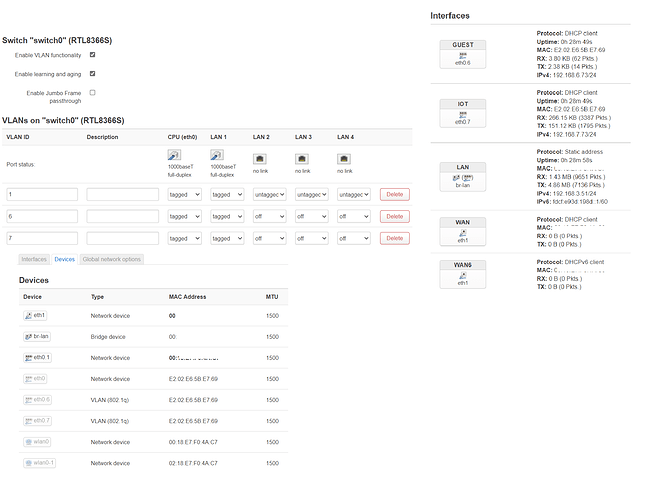 My goal is simply for the DIR-825 to act as an AP with HomeNet SSID, Guest SSID, IOT SSID. The remaining 3 LAN port to be HomeNet. Also, how can I use the WAN port instead of LAN1 as the bridge? Future plan may include wiring another AP to LAN 4.
Thank you for your help.