Hi everybody,
I have intalled OpenWRT over a Archer C5.
I want create some VLAN and asociate some port to this VLAN, create other VLAN and asociate with a new SSID, etc.
In LuCI, when I access to "Network > Switch" to create new VLANs It show the next picture: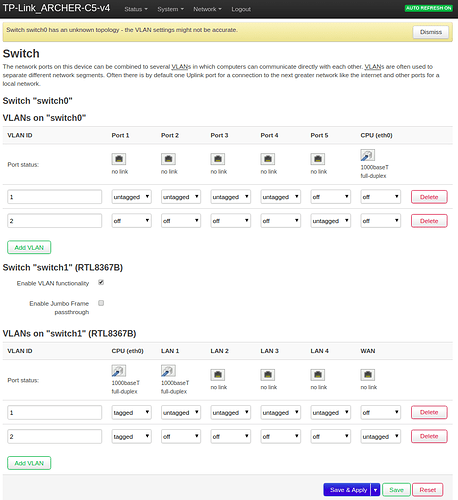 And I have some doubts:
What does it mean the message "Switch switch0 has an unknown topology - the VLAN settings might not be accurate." that appear in top of page?
Where can I find information about this image, what is switch0, what switch1, where I have to add the VLAN (switch0 / switch1), how many VLAN ID support this device with OpenWRT (from wich VLAN ID to wich VLAN ID, etc?
Regards,
Ramsés