There is a quad port card with I225 chips + Riser + the baffle for Lenovo :
https://www.aliexpress.com/item/1005004678867769.html
https://www.aliexpress.com/item/1005004681623172.html
"4x 2.5gbe can arrive (deliver?) 2.1gbe at the same time" ?
Per port, or combined?
if you scroll the page a little there are some screenshots, they say :
The 4 Port One-Way Measured Data is as Follows:
The 4 Port Two-Way Measured Data is as Follows:
Very nice
May I ask:
How loud is that Lenovo stock fan?
It looks like the cooling system is a custom thing: radial fan sucking from top and blowing to some air duct leading to the left side?
Can the BIOS be configured to boot on power-connected?
Does the BIOS allow to boot from USB Drives?
for both links you have to click on the correct thumbnail on the right of the picture. They both offer the complet kit : NIC + riser + backplate
when you click on the thumbnail, the price should change.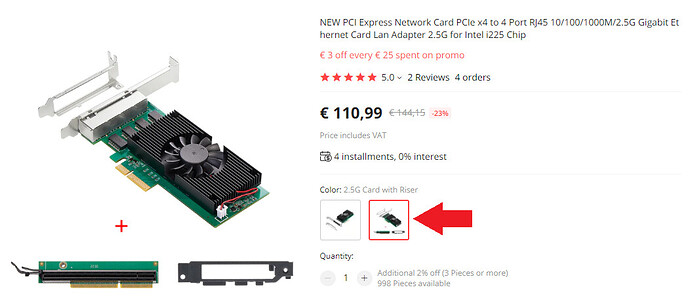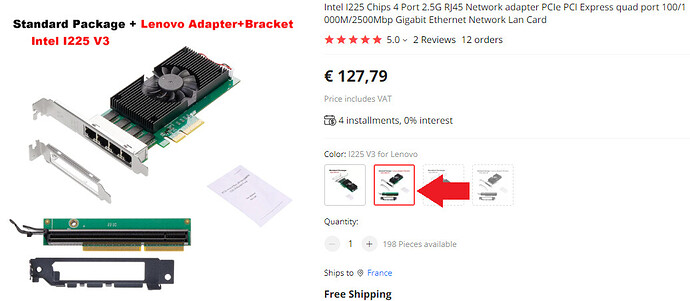 btw i don't understand why the Nic need a fan...according to intel the TDP for this chip is 1.95w so for 4 chips it's less than 8w...the heatsink isn't enough ?
i saw QNAP is using the same design for its card.
Anyone know if there's an i226 version of this? I couldn't find one yet.
Gotta love the typo in the pic - i266.
for the price of this i226 card, you can get a mini pc with i226 in it
oups posted in the wrong topic...
looks like intel posted the workaround for the connection drops for intel i225/i226
so i guess we can disable eee with the ethtool command.
Not that easy as you think, my colleague is an engineer working on driver, also dealing with the igb driver and he found a lot of mess on i225/i226.
I know Realtek should never be first choice but if sacrificing some CPU resources could bring me better stability I won't mind to go for Realtek 8125B.
Great! So he's going to fix these problems and compile us a version that works perfectly?
Unfortunately, no....there are lots of issues not resolved.