i've been using this device for a decade thanks to openwrt, as i understand the next release will not support this device anymore (please correct me if i'm wrong) do to age limits. this is sad because it's one of the few vdsl modems that can run openwrt. i've build an image (imagebuilder 22.03.5) to use this device as a bridged vdsl modem only since routing or wifi is not an option obviously for performance but as a bridged modem it can handle a 100mb fttc line just fine, image is 7mb no wifi, no dnsmasq, etc, yet with luci-ssl included (and a few packages) and still have some free space.
is there a chance to save this device just as a bridged modem in 23.05?
will it be possible to build a basic image just for bridged modem use in 23.05?
how safe is to use this device in future years just as a bridged modem (no internet access to device) if there is no chance of an upgrade? i'm not going to throw away a working device
thanks!
just for reference
free space: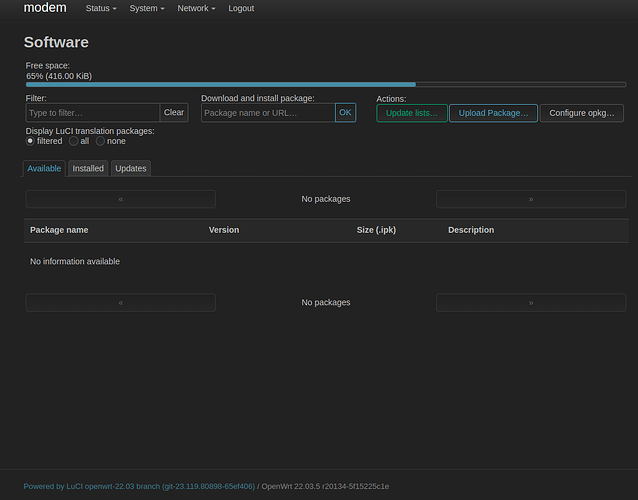 installed packages:
ase-files - 1502-r20134-5f15225c1e
br2684ctl - 2.5.2-7
busybox - 1.35.0-5
ca-bundle - 20230311-1
cgi-io - 2022-08-10-901b0f04-21
dropbear - 2022.82-2
dsl-vrx200-firmware-xdsl-b - 05.08.01.08.01.06_05.08.00.0B.01.01_osc-1
firewall4 - 2022-10-18-7ae5e14b-1
fstools - 2022-06-02-93369be0-2
fwtool - 2019-11-12-8f7fe925-1
getrandom - 2021-08-03-205defb5-2
htop - 3.2.2-1
ip-bridge - 5.15.0-4
jansson4 - 2.13.1-2
jshn - 2022-05-15-d2223ef9-1
jsonfilter - 2018-02-04-c7e938d6-1
kernel - 5.10.176-1-b9bebdfbaa90ead22293aa3b3e7fe7a3
kmod-atm - 5.10.176-1
kmod-crypto-aead - 5.10.176-1
kmod-crypto-crc32c - 5.10.176-1
kmod-crypto-des - 5.10.176-1
kmod-crypto-hash - 5.10.176-1
kmod-crypto-manager - 5.10.176-1
kmod-crypto-null - 5.10.176-1
kmod-gpio-button-hotplug - 5.10.176-3
kmod-leds-gpio - 5.10.176-1
kmod-lib-crc-ccitt - 5.10.176-1
kmod-lib-crc32c - 5.10.176-1
kmod-ltq-atm-vr9 - 5.10.176-3
kmod-ltq-deu-vr9 - 5.10.176-43
kmod-ltq-ifxos - 5.10.176+1.7.1-1
kmod-ltq-ptm-vr9 - 5.10.176-3
kmod-ltq-vdsl-vr9 - 5.10.176+4.17.18.6-7
kmod-ltq-vdsl-vr9-mei - 5.10.176+1.5.17.6-6
kmod-ltq-vectoring - 5.10.176+2019-05-20-4fa7ac30-1
kmod-nf-conntrack - 5.10.176-1
kmod-nf-conntrack6 - 5.10.176-1
kmod-nf-flow - 5.10.176-1
kmod-nf-log - 5.10.176-1
kmod-nf-log6 - 5.10.176-1
kmod-nf-nat - 5.10.176-1
kmod-nf-reject - 5.10.176-1
kmod-nf-reject6 - 5.10.176-1
kmod-nfnetlink - 5.10.176-1
kmod-nft-core - 5.10.176-1
kmod-nft-fib - 5.10.176-1
kmod-nft-nat - 5.10.176-1
kmod-nft-offload - 5.10.176-1
kmod-ppp - 5.10.176-1
kmod-pppoa - 5.10.176-1
kmod-pppoe - 5.10.176-1
kmod-pppox - 5.10.176-1
kmod-slhc - 5.10.176-1
libblobmsg-json20220515 - 2022-05-15-d2223ef9-1
libc - 1.2.3-4
libgcc1 - 11.2.0-4
libiwinfo-data - 2022-12-15-8d158096-1
libiwinfo-lua - 2022-12-15-8d158096-1
libiwinfo20210430 - 2022-12-15-8d158096-1
libjson-c5 - 0.15-2
libjson-script20220515 - 2022-05-15-d2223ef9-1
liblua5.1.5 - 5.1.5-10
liblucihttp-lua - 2023-03-15-9b5b683f-1
liblucihttp0 - 2023-03-15-9b5b683f-1
libmnl0 - 1.0.5-1
libncurses6 - 6.3-2
libnftnl11 - 1.2.1-2
libnl-tiny1 - 2021-11-21-8e0555fb-1
libopenssl1.1 - 1.1.1t-3
libpopt0 - 1.16-2
libpthread - 1.2.3-4
librt - 1.2.3-4
libubox20220515 - 2022-05-15-d2223ef9-1
libubus-lua - 2022-06-01-2bebf93c-1
libubus20220601 - 2022-06-01-2bebf93c-1
libuci20130104 - 2021-10-22-f84f49f0-6
libuclient20201210 - 2023-04-13-007d9454-1
libucode20220812 - 2022-12-02-46d93c9c-1
libustream-wolfssl20201210 - 2022-12-08-9217ab46-2
libwolfssl5.5.4.ee39414e - 5.5.4-stable-1
linux-atm - 2.5.2-7
logd - 2021-08-03-205defb5-2
ltq-dsl-base - 3
ltq-vdsl-app - 4.17.18.6-38
lua - 5.1.5-10
luci - git-23.093.42303-d58cd69
luci-app-firewall - git-23.093.42704-1c01c64
luci-app-opkg - git-23.093.42303-e16f620
luci-base - git-23.119.80898-65ef406
luci-lib-base - git-20.232.39649-1f6dc29
luci-lib-ip - git-20.250.76529-62505bd
luci-lib-jsonc - git-22.097.61921-7513345
luci-lib-nixio - git-20.234.06894-c4a4e43
luci-mod-admin-full - git-19.253.48496-3f93650
luci-mod-network - git-23.150.26444-c5db28c
luci-mod-status - git-23.158.78816-1c26abc
luci-mod-system - git-23.118.78821-0c02883
luci-proto-ipv6 - git-21.148.48881-79947af
luci-proto-ppp - git-21.158.38888-88b9d84
luci-ssl - git-20.244.36115-e10f954
luci-theme-bootstrap - git-23.093.42704-b47268a
mtd - 26
netifd - 2022-08-25-76d2d41b-1
nftables-json - 1.0.2-2.1
openssh-sftp-server - 8.9p1-1
openwrt-keyring - 2022-03-25-62471e69-3
opkg - 2022-02-24-d038e5b6-1
ppp - 2.4.9.git-2021-01-04-3
ppp-mod-pppoa - 2.4.9.git-2021-01-04-3
ppp-mod-pppoe - 2.4.9.git-2021-01-04-3
procd - 2022-06-01-7a009685-2
procd-seccomp - 2022-06-01-7a009685-2
procd-ujail - 2022-06-01-7a009685-2
px5g-wolfssl - 6.2
rpcd - 2022-12-15-7de4820c-1
rpcd-mod-file - 2022-12-15-7de4820c-1
rpcd-mod-iwinfo - 2022-12-15-7de4820c-1
rpcd-mod-luci - 20210614
rpcd-mod-rrdns - 20170710
rsync - 3.2.7-1
screen - 4.8.0-2
terminfo - 6.3-2
ubi-utils - 2.1.4-1
ubox - 2021-08-03-205defb5-2
ubus - 2022-06-01-2bebf93c-1
ubusd - 2022-06-01-2bebf93c-1
uci - 2021-10-22-f84f49f0-6
uclient-fetch - 2023-04-13-007d9454-1
ucode - 2022-12-02-46d93c9c-1
ucode-mod-fs - 2022-12-02-46d93c9c-1
ucode-mod-ubus - 2022-12-02-46d93c9c-1
ucode-mod-uci - 2022-12-02-46d93c9c-1
uhttpd - 2022-10-31-23977554-1
uhttpd-mod-ubus - 2022-10-31-23977554-1
urandom-seed - 3
urngd - 2020-01-21-c7f7b6b6-1
usign - 2020-05-23-f1f65026-1
zlib - 1.2.11-6