Dear all,
I purchased at five Mikrotik hAP ac (RB962UiGS-5HacT2HnT) for a real bargain (40€ each), mostly because I like the design with a switch chip, three radios on 2;4Ghz and 5 Ghz, the presence of an SFP connector. However, I realize that Mikrotik does not offer WPA3 and lags behind in WIFI. So I might consider flashing OpenWRT.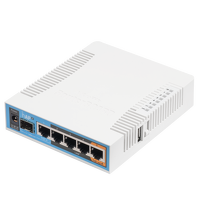 Do you know why OpenWRT latest versions are not supported? Is WPA3 implemented? Can the SFP connector be used? What is the status of OpenWRT on hAP ac (RB962UiGS-5HacT2HnT)?
Any information welcome, thank you.
FFries