Hi all, been having a bit of trouble trying to set this up, this is my desired goal.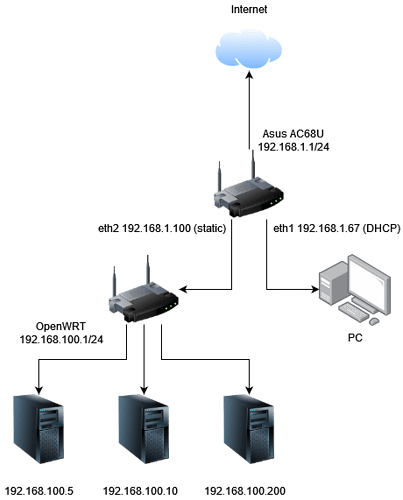 I want to be able to hit servers located within the 192.168.100.0/24 subnet from my PC.
I have set up a static route on the ASUS AC68U with the following details:
Network: 192.168.100.0
Netmask: 255.255.255.0
Gateway: 192.168.1.100
I have tried heaps of different configurations, during which if I hit any address in the 192.168.100.0/24 it would just take me to the LUCI interface of OpenWRT. I have tried adding a static route in OpenWRT from the WAN interface to the LAN Gateway. I tried bridging the WAN and LAN interface. I tried making the WAN interface a LAN interface. I have the firewall rules as open as possible. I noticed when I add static routes in the UI, they do not show up with an 'ip route'.
Any help is much appreciated