Hello,
my network knowledge is limited, so I am hoping for your help.
I am planning a new network according to the following scheme, which I hope is possible. I will set up the WLAN later, I want to allow the LAN to access the internet first.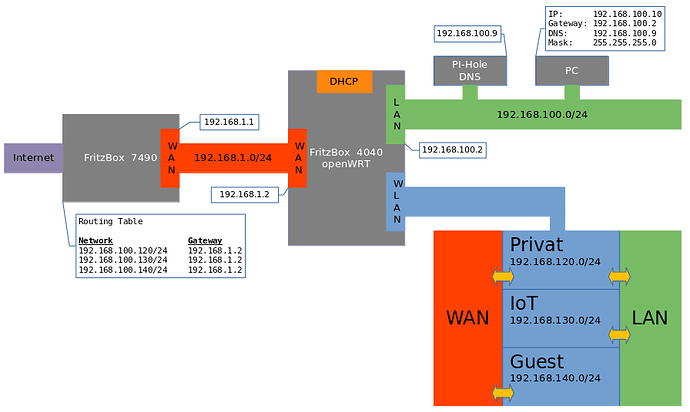 I have a fresh setup on a FritzBox 4040 with V21.02. and have made the appropriate settings. Unfortunately, I have no Internet access with it.
The DNS (PI-HOLE) is running correctly as it works in the current setup.
I have set the routes on the Fritzbox 7490 to avoid a double NAT.
What is possible after the setup:
access to openWRT via 192.168.100.1
after ssh-login in openWRT a ping to 192.168.1.1 is possible
no ping from the PC (192.168.100.10) to 192.168.1.1 and 192.168.1.2 and thus probably no Internet.
What have I done wrong?
/etc/config/network

config interface 'loopback'
	option device 'lo'
	option proto 'static'
	option ipaddr '127.0.0.1'
	option netmask '255.0.0.0'

config globals 'globals'
	option ula_prefix 'fd44:e14b:4618::/48'

config device
	option name 'br-lan'
	option type 'bridge'
	list ports 'eth0'

config interface 'lan'
	option proto 'static'
	option netmask '255.255.255.0'
	option ip6assign '60'
	option ipaddr '192.168.100.1'
	option device 'eth0'

config interface 'wan'
	option device 'eth1'
	option proto 'static'
	option ipaddr '192.168.1.2'
	option netmask '255.255.255.0'
	option gateway '192.168.1.1'

config interface 'wan6'
	option device 'eth1'
	option proto 'dhcpv6'

config switch
	option name 'switch0'
	option reset '1'
	option enable_vlan '1'

config switch_vlan
	option device 'switch0'
	option vlan '1'
	option ports '1 2 3 4 0'

/etc/config/firewall
config defaults
	option input 'ACCEPT'
	option output 'ACCEPT'
	option synflood_protect '1'
	option forward 'REJECT'

config zone
	option name 'lan'
	list network 'lan'
	option input 'ACCEPT'
	option output 'ACCEPT'
	option forward 'ACCEPT'

config zone
	option name 'wan'
	list network 'wan'
	list network 'wan6'
	option output 'ACCEPT'
	option input 'REJECT'
	option forward 'REJECT'

config forwarding
	option src 'lan'
	option dest 'wan'

config rule
	option name 'Allow-DHCP-Renew'
	option src 'wan'
	option proto 'udp'
	option dest_port '68'
	option target 'ACCEPT'
	option family 'ipv4'

config rule
	option name 'Allow-Ping'
	option src 'wan'
	option proto 'icmp'
	option icmp_type 'echo-request'
	option family 'ipv4'
	option target 'ACCEPT'

config rule
	option name 'Allow-IGMP'
	option src 'wan'
	option proto 'igmp'
	option family 'ipv4'
	option target 'ACCEPT'

config rule
	option name 'Allow-DHCPv6'
	option src 'wan'
	option proto 'udp'
	option src_ip 'fc00::/6'
	option dest_ip 'fc00::/6'
	option dest_port '546'
	option family 'ipv6'
	option target 'ACCEPT'

config rule
	option name 'Allow-MLD'
	option src 'wan'
	option proto 'icmp'
	option src_ip 'fe80::/10'
	list icmp_type '130/0'
	list icmp_type '131/0'
	list icmp_type '132/0'
	list icmp_type '143/0'
	option family 'ipv6'
	option target 'ACCEPT'

config rule
	option name 'Allow-ICMPv6-Input'
	option src 'wan'
	option proto 'icmp'
	list icmp_type 'echo-request'
	list icmp_type 'echo-reply'
	list icmp_type 'destination-unreachable'
	list icmp_type 'packet-too-big'
	list icmp_type 'time-exceeded'
	list icmp_type 'bad-header'
	list icmp_type 'unknown-header-type'
	list icmp_type 'router-solicitation'
	list icmp_type 'neighbour-solicitation'
	list icmp_type 'router-advertisement'
	list icmp_type 'neighbour-advertisement'
	option limit '1000/sec'
	option family 'ipv6'
	option target 'ACCEPT'

config rule
	option name 'Allow-ICMPv6-Forward'
	option src 'wan'
	option dest '*'
	option proto 'icmp'
	list icmp_type 'echo-request'
	list icmp_type 'echo-reply'
	list icmp_type 'destination-unreachable'
	list icmp_type 'packet-too-big'
	list icmp_type 'time-exceeded'
	list icmp_type 'bad-header'
	list icmp_type 'unknown-header-type'
	option limit '1000/sec'
	option family 'ipv6'
	option target 'ACCEPT'

config rule
	option name 'Allow-IPSec-ESP'
	option src 'wan'
	option dest 'lan'
	option proto 'esp'
	option target 'ACCEPT'

config rule
	option name 'Allow-ISAKMP'
	option src 'wan'
	option dest 'lan'
	option dest_port '500'
	option proto 'udp'
	option target 'ACCEPT'

config rule
	option name 'Support-UDP-Traceroute'
	option src 'wan'
	option dest_port '33434:33689'
	option proto 'udp'
	option family 'ipv4'
	option target 'REJECT'
	option enabled 'false'

config include
	option path '/etc/firewall.user'