Hello everyone,
I've been trying over the last couple of days to troubleshoot on issue with WireGuard client connection speed, as reported by my Roku Ultra. I was able to get about 71Mbps on the Roku Ultra speed test, but somehow, over the last couple of days, it has fallen drastically.
To verify if the issue was caused by the recent adoption of the Protectli router, I decided to chain it to the previously used GL-MV1000, which always provided the above mentioned 70ish Mbps when going through WIreGuard connection. My paid for ISP speed is 200/100, but I intend to go gigabit in the near future, which was the reasoning behind the adoption of the x86/64 router.
Anyway, I don't know if it's the new blood pressure control med I began taking a few days ago, but I cannot seem to find why I cannot access the GL-MV1000 OpenWrt Luci interface from a computer connected to the LAN provided by the Protectli router.... I think I should be able to access Luci on the GL-MV1000 because it's the default gateway for the Protectli, no need for static routes, but since I currently can't and I'm currently a little liteheaded, I thought it would be faster to ask for help from you gentle folk. Services marked as disabled are in such state because of the testing circumstance I explained above.
TIA
Diagram below may help you noble friends to understand: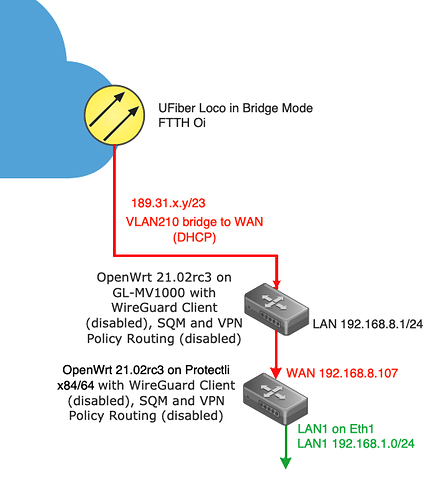 PS: I think it's worth mentioning that even though I can't access LUCI on 192.168.8.1, I can surf the web alright.