I've been trying to use the rtl-sdr package (in particular rtl_tcp) to stream RF captures across my network using a Nooelec NESDR - which is a full-speed USB-2 bus-powered device.
I'm seeing what I think are USB I/O issues
I'm running 19.07.5 on an Archer C2600
I'm using openwebrx to visualise the capture on another machine, and it shows what I initially thought to be a huge amount of noise: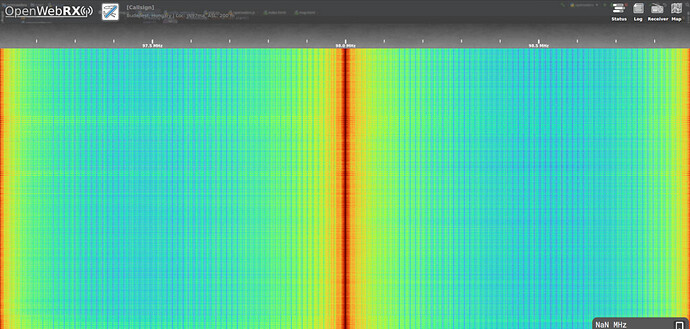 But this is actually a total "white-out" - I can blast a signal in this particular band at it and it doesn't register.
rtl_test is also showing significant drops, even at the lowest sample rate, which rules out a bunch of things:
root@rtl:~# rtl_test -s 225001
Found 1 device(s):
  0:  Realtek, RTL2838UHIDIR, SN: 00000001

Using device 0: Generic RTL2832U OEM
Found Rafael Micro R820T tuner
Supported gain values (29): 0.0 0.9 1.4 2.7 3.7 7.7 8.7 12.5 14.4 15.7 16.6 19.7 20.7 22.9 25.4 28.0 29.7 32.8 33.8 36.4 37.2 38.6 40.2 42.1 43.4 43.9 44.5 48.0 49.6 
[R82XX] PLL not locked!
Sampling at 225001 S/s.

Info: This tool will continuously read from the device, and report if
samples get lost. If you observe no further output, everything is fine.

Reading samples in async mode...
Allocating 15 zero-copy buffers
lost at least 30997990 bytes
lost at least 19639627 bytes
lost at least 31768154 bytes
lost at least 17121486 bytes
...


Things I've learned so far:
The logs don't seem to contain anything pertaining to the tests
The RTL SDR device is just fine - works on other machines
It's not RFI related. I use the RTL SDR device right next to this router and it works fine
It's not USB cable related: same cables are fine when this RTL SDR is used on other machines
It's probably not USB power related: other bus-powered devices in the same USB 3 port work just fine, and I've tried putting a powered USB hub in-between (which also works fine when used on other machines)
It doesn't seem to be a CPU or memory constraint issue - atop shows almost completely idle cores and plenty of spare RAM
Results on my WDR4900 are much better (some buffering issues, but rtl_test is happy). This is a lower spec device, and only has USB-2 ports - which could be a clue
I'm hoping that there are others out there who might be able to provide some guidance as to what to try next to help isolate the root cause.
Any thoughts and ideas most welcome.
FWIW, I've cross posted to the RTL-SDR sub-reddit to reach the RTL-SDR community: