Hello,
can someone help me setting up a rp-pppoe-server? I want to provide a "fake ISP login" to a cascaded router (via eth1.103) which needs to make use of its PPPoE capability (ISP hardware...) for (hopefully) proper VoIP and IPTV support.
So far I have installed luci-app-rp-pppoe-server which included rp-pppoe-common and rp-pppoe-server. To make the settings editable in the LuCI Services tab I edited /etc/config/pppoe as stated here, but now I'm struggling to find the proper settings.
This is what my configuration page looks like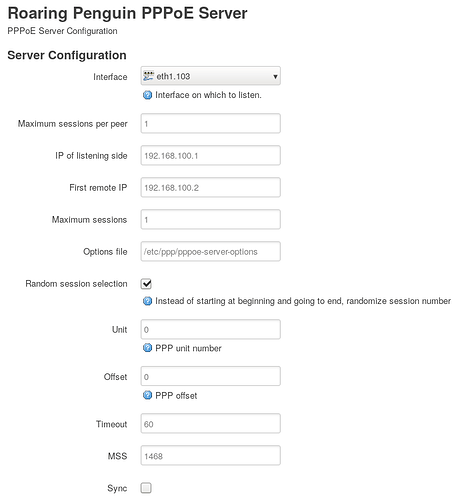 /etc/config/pppoe
config pppoe_server
	option firsremoteip '192.168.2.2'
	option optionsfile '/etc/ppp/pppoe-server-options'
	option randomsessions '1'
	option unit '0'
	option offset '0'
	option timeout '60'
	option mss '1468'
	option sync '0'
	option maxsessions '1'
	option maxsessionsperpeer '1'
	option localip '192.168.100.1'
	option firstremoteip '192.168.100.2'
	option interface 'eth1.103'

config pppoe_relay
	list server_interface 'eth1'
	list client_interface 'eth0'
	list both_interface 'eth2'
	option maxsessions '64'
	option timeout '60'

/etc/ppp/pppoe-server-options
# PPP options for the PPPoE server
# LIC: GPL
#require-pap
require-chap
login
lcp-echo-interval 10
lcp-echo-failure 2
#mru 1492
#mtu 1492
# custom
netmask 255.255.255.0
defaultroute
noipdefault
usepeerdns

/etc/ppp/chap-secrets
#USERNAME  PROVIDER  PASSWORD  IPADDRES
"joachim"  *         "secret"  192.168.100.2

For now, I just set up an interface eth1.103 as unmanaged. If I don't define it the server will respond with pppoe: ioctl(SIOCGIFHWADDR): No such device. If I set it up as DHCP my computer will just listen to DHCP after a failed PPPoE login attempt (default fallback).
output of journalctl -fu NetworkManager
Mar 27 20:47:22 d9 NetworkManager[606]: <info>  [1553716042.6593] device (enp109s0): Activation: starting connection 'S7-PPPoE' (fc2bf97c-d6c3-4761-8813-ecdf5aa5f4ab)
Mar 27 20:47:22 d9 NetworkManager[606]: <info>  [1553716042.6597] audit: op="connection-activate" uuid="fc2bf97c-d6c3-4761-8813-ecdf5aa5f4ab" name="S7-PPPoE" pid=3193 uid=1000 result="success"
Mar 27 20:47:22 d9 NetworkManager[606]: <info>  [1553716042.6600] device (enp109s0): state change: disconnected -> prepare (reason 'none') [30 40 0]
Mar 27 20:47:22 d9 NetworkManager[606]: <info>  [1553716042.6604] manager: NetworkManager state is now CONNECTING
Mar 27 20:47:22 d9 NetworkManager[606]: <info>  [1553716042.6625] device (enp109s0): state change: prepare -> config (reason 'none') [40 50 0]
Mar 27 20:47:22 d9 NetworkManager[606]: <info>  [1553716042.6650] device (enp109s0): state change: config -> ip-config (reason 'none') [50 70 0]
Mar 27 20:47:22 d9 NetworkManager[606]: <info>  [1553716042.6652] ppp-manager: starting PPP connection
Mar 27 20:47:22 d9 NetworkManager[606]: <info>  [1553716042.6661] ppp-manager: pppd started with pid 22218
Mar 27 20:47:22 d9 pppd[22218]: Plugin rp-pppoe.so loaded.
Mar 27 20:47:22 d9 NetworkManager[606]: Plugin rp-pppoe.so loaded.
Mar 27 20:47:22 d9 pppd[22218]: Plugin /usr/lib/pppd/2.4.7/nm-pppd-plugin.so loaded.
Mar 27 20:47:22 d9 NetworkManager[606]: Plugin /usr/lib/pppd/2.4.7/nm-pppd-plugin.so loaded.
Mar 27 20:47:22 d9 pppd[22218]: nm-ppp-plugin: (plugin_init): initializing
Mar 27 20:47:22 d9 pppd[22218]: pppd 2.4.7 started by root, uid 0
Mar 27 20:47:22 d9 pppd[22218]: nm-ppp-plugin: (nm_phasechange): status 3 / phase 'serial connection'
Mar 27 20:47:22 d9 pppd[22218]: PPP session is 1
Mar 27 20:47:22 d9 NetworkManager[606]: PPP session is 1
Mar 27 20:47:22 d9 NetworkManager[606]: Connected to cc:40:d0:56:0f:c3 via interface enp109s0
Mar 27 20:47:22 d9 NetworkManager[606]: Using interface ppp0
Mar 27 20:47:22 d9 NetworkManager[606]: Connect: ppp0 <--> enp109s0
Mar 27 20:47:22 d9 pppd[22218]: nm-ppp-plugin: (nm_phasechange): status 5 / phase 'establish'
Mar 27 20:47:22 d9 pppd[22218]: Connected to cc:40:d0:56:0f:c3 via interface enp109s0
Mar 27 20:47:22 d9 pppd[22218]: Using interface ppp0
Mar 27 20:47:22 d9 pppd[22218]: Connect: ppp0 <--> enp109s0
Mar 27 20:47:22 d9 NetworkManager[606]: <info>  [1553716042.7566] manager: (ppp0): new Generic device (/org/freedesktop/NetworkManager/Devices/17)
Mar 27 20:47:22 d9 NetworkManager[606]: <info>  [1553716042.7769] devices added (path: /sys/devices/virtual/net/ppp0, iface: ppp0)
Mar 27 20:47:22 d9 NetworkManager[606]: <info>  [1553716042.7770] device added (path: /sys/devices/virtual/net/ppp0, iface: ppp0): no ifupdown configuration found.
Mar 27 20:47:22 d9 pppd[22218]: Modem hangup
Mar 27 20:47:22 d9 NetworkManager[606]: Modem hangup
Mar 27 20:47:22 d9 NetworkManager[606]: Connection terminated.
Mar 27 20:47:22 d9 pppd[22218]: nm-ppp-plugin: (nm_phasechange): status 11 / phase 'disconnect'
Mar 27 20:47:22 d9 pppd[22218]: Connection terminated.
Mar 27 20:47:22 d9 NetworkManager[606]: <info>  [1553716042.8083] device (enp109s0): state change: ip-config -> failed (reason 'ppp-disconnect') [70 120 13]
Mar 27 20:47:22 d9 NetworkManager[606]: <info>  [1553716042.8087] manager: NetworkManager state is now CONNECTED_LOCAL
Mar 27 20:47:22 d9 NetworkManager[606]: <warn>  [1553716042.8098] device (enp109s0): Activation: failed for connection 'S7-PPPoE'
Mar 27 20:47:22 d9 NetworkManager[606]: <info>  [1553716042.8128] device (enp109s0): state change: failed -> disconnected (reason 'none') [120 30 0]
Mar 27 20:47:22 d9 NetworkManager[606]: <info>  [1553716042.8177] devices removed (path: /sys/devices/virtual/net/ppp0, iface: ppp0)
Mar 27 20:47:22 d9 NetworkManager[606]: <info>  [1553716042.8214] policy: auto-activating connection 'Wired connection 1'
Mar 27 20:47:22 d9 NetworkManager[606]: <info>  [1553716042.8248] device (enp109s0): Activation: starting connection 'Wired connection 1' (39d2c52f-afe2-4846-b490-da4b7d36330b)
Mar 27 20:47:22 d9 NetworkManager[606]: <info>  [1553716042.8253] device (enp109s0): state change: disconnected -> prepare (reason 'none') [30 40 0]
Mar 27 20:47:22 d9 NetworkManager[606]: <info>  [1553716042.8255] manager: NetworkManager state is now CONNECTING
Mar 27 20:47:22 d9 NetworkManager[606]: <info>  [1553716042.8266] device (enp109s0): state change: prepare -> config (reason 'none') [40 50 0]
Mar 27 20:47:22 d9 NetworkManager[606]: <info>  [1553716042.8314] device (enp109s0): state change: config -> ip-config (reason 'none') [50 70 0]
Mar 27 20:47:22 d9 NetworkManager[606]: <info>  [1553716042.8322] dhcp4 (enp109s0): activation: beginning transaction (timeout in 45 seconds)
Mar 27 20:47:22 d9 NetworkManager[606]: <info>  [1553716042.8362] dhcp4 (enp109s0): dhclient started with pid 22243
Mar 27 20:47:22 d9 pppd[22218]: Failed to disconnect PPPoE socket: 114 Operation already in progress
Mar 27 20:47:22 d9 NetworkManager[606]: Failed to disconnect PPPoE socket: 114 Operation already in progress
Mar 27 20:47:22 d9 dhclient[22243]: DHCPREQUEST of 192.168.2.199 on enp109s0 to 255.255.255.255 port 67
Mar 27 20:47:22 d9 pppd[22218]: nm-ppp-plugin: (nm_phasechange): status 1 / phase 'dead'
Mar 27 20:47:28 d9 dhclient[22243]: DHCPREQUEST of 192.168.2.199 on enp109s0 to 255.255.255.255 port 67

Best regards,
Domme