Hello to the community,
I've recently made a transition from the Unifi gateway system as it was becoming a bit intricate for my home network setup. Instead, I opted to use devices from GL.iNet as my gateway and DHCP server. I still intend to keep the Ubiquiti wireless access points, as I've been quite satisfied with their performance.
Good news is, I managed to set everything up correctly. All my devices are connecting back to the network and functioning as expected since I retained the same local IP range, static IPs, and firewall rules from my previous Unifi gateway.
Now, the challenge I'm facing is setting up the guest WiFi network. I always had a guest network setup, and I would like to integrate it with the guest network existing on the new GL.iNet gateway. I observed that within the Unifi controller settings, I can configure the guest WiFi to use a VLAN from a third-party gateway. However, I'm having a hard time understanding and successfully setting up the VLAN and guest network in the advanced settings of the GL.iNet gateway. From what I can see, there are two VLANs listed – VLAN 1 and VLAN 2. I tried adding VLAN 2 to the Unifi controller, but the devices are not getting IP addresses when connected. There is already a guest network from the OPAL (192.168.9.0/24), since I'm using it temporarily until my Brume 2 arrives.
Here are my configs: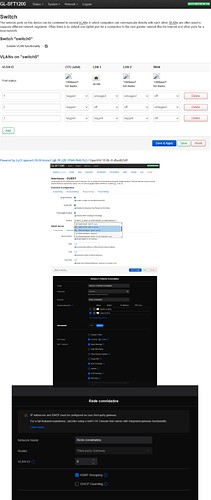 Could someone kindly provide guidance on how I can set up the guest network using the Unifi access point system? Any help would be greatly appreciated. Thank you in advance!