Hi,
I just got my Bell Fibre service upgraded from 500Mbps to their 1gig service.

The Bell HomeHub 3000 (HH3000) can get these speeds when I ran a test directly from device itself: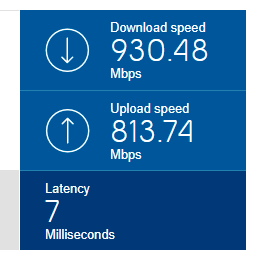 Now I'm trying to get these types of speeds from my Rpi4b... however so far I can only achieve these types of speeds: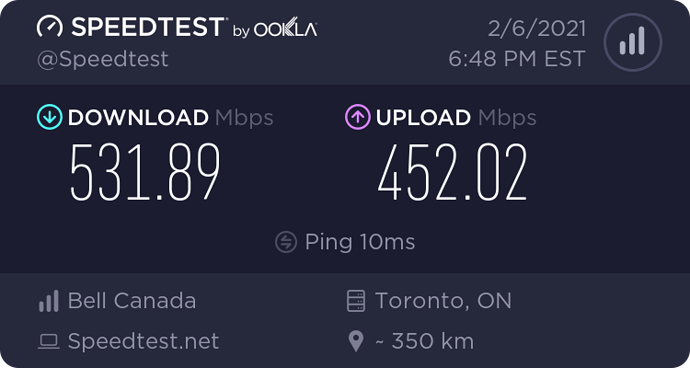 My hardware:
TP-Link MC220L Gigabit Media Converter (to convert the fibre to eth)
TP-LINK TL-SG105E 5-Port Gigabit Easy Smart Switch (VLAN tagging, 1 port to the HH3K, 1 port to the Rpi4b)
TP-Link 16 Port Gigabit Ethernet Network Switch (TL-SG116) (my LAN)
TP-Link Foldable USB 3.0 to 10/100/1000 Gigabit Ethernet Network Adapter (UE300) (used with the Rpi4b for eth1)
Rpi4b 4gigs with a recent compiled SNAPSHOT of OpenWRT. (Linux GateKeeper 5.4.92 #0 SMP Tue Jan 26 14:06:50 2021 aarch64 GNU/Linux)
eth0 is LAN (to the tp-llink 16 port switch)
eth1 is WAN (pppoe) to the TL-SG105G smart switch (vlan 35)
I've confirmed that my eth ports are at 1000Mb/s (ethtool eth1)
When I test my network speeds between my local devices, I get between 800-900+ Mbps using iperf3. I get comparable results using iperf3 between my Rpi4b and my local devices (linux/windows/etc)
I "think" I've gotten everything setup as best as I can, and I was satisfied with the 500Mbps service I was getting with Bell. But since I now my Rpie4b can achieve 1gig speeds I decided to upgrade!
Any ideas as to what could be preventing my Rpie4b from achieving higher speeds?
I DO have Software/Hardware flow offloading ENABLE in my firewall settings. I don't know if that makes a diff?
Thanks!
edit: Bell did have to upgrade the firmware on my HH3k before the new 1gig speeds would work.