In the country where I live, DNS is "Hijacked".
I am using this program on OpenWrt project and on Raspberrypi4B device and it works very well. The only problem I have is that when my WAN connection is disconnected (from the Provider) and after it comes back it does not open any website (because it is not Resolve) and I have to restart service "/etc/init.d/https-dns-proxy" from Startup or via Terminal to connect.
Can you tell me how I can solve this problem? Is there a way that I can restart the service after the shutdown, for example through Shell Script?
I saw a script somewhere on the internet but I do not think it is a shell script and if so where should it be used:
#!/bin/sh
# Put this script run in crond.

service=ocserv

if test $(netstat -na | grep 0.0.0.0:443 | wc -l) = 2
then
        echo "$service is running!"
else
        /etc/init.d/$service start
fi

Do I have to change the script above as follows? (Unfortunately, I do not know any scripting.)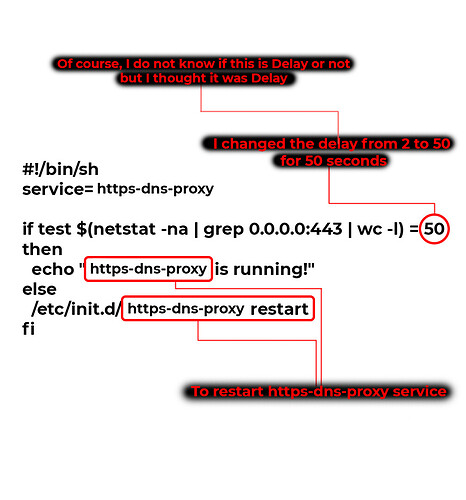 Is it possible for someone to help me solve this https problem after the WAN is down?