Hi,
I have setup OpenWRT on dumb AP Asus RT-N56U to separate Private and Guest WLAN networks as follows: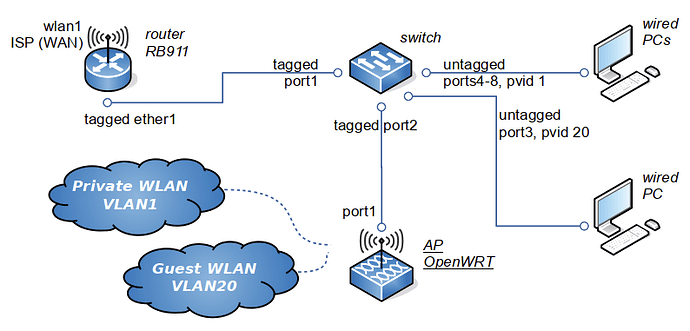 All AP clients get their IP from DHCP servers running on router (10.11.13.1/24 for VLAN1 Private and 10.11.17.0/24 for VLAN20 Guest).
All works fine, in terms of connectivity. (On router, I block any communication from VLAN20 interface to VLAN1 interface and allow only WAN interface.)
My question is whether the setup in OpenWRT AP is sufficiently secure to block Guest WLAN clients from any access to the AP and/or Private LAN/WLAN.
# /etc/config/network
config interface 'loopback'
	option ifname 'lo'
	option proto 'static'
	option ipaddr '127.0.0.1'
	option netmask '255.0.0.0'

config globals 'globals'
	option ula_prefix 'fd92:4c1d:de7f::/48'

config interface 'lan'
	option type 'bridge'
	option ifname 'eth0.1'
	option proto 'static'
	option netmask '255.255.255.0'
	option ip6assign '60'
	option ipaddr '10.11.13.10'
	option gateway '10.11.13.1'
	option dns '10.11.13.1 8.8.8.8'

config device 'lan_dev'
	option name 'eth0.1'
	option macaddr '0a:60:6e:e9:3c:89'

config interface 'wan'
	option ifname 'eth0.2'
	option proto 'dhcp'

config device 'wan_dev'
	option name 'eth0.2'
	option macaddr '08:60:6e:e9:3c:88'

config interface 'wan6'
	option ifname 'eth0.2'
	option proto 'dhcpv6'

config switch
	option name 'switch0'
	option reset '1'
	option enable_vlan '1'
	option enable_vlan4k '1'

config switch_vlan
	option device 'switch0'
	option vlan '1'
	option ports '0t 1 2 3 8t'

config switch_vlan
	option device 'switch0'
	option vlan '2'
	option ports '4 8t'

config interface 'guest'
	option proto 'static'
	option ifname 'eth0.20'
	option type 'bridge'

config switch_vlan
	option device 'switch0'
	option ports '0t 8t'
	option vlan '20'

# /etc/config/wireless

config wifi-device 'radio0'
	option type 'mac80211'
	option channel '11'
	option hwmode '11g'
	option path 'pci0000:00/0000:00:01.0/0000:01:00.0'
	option htmode 'HT20'
	option legacy_rates '0'
	option txpower '18'

config wifi-iface 'default_radio0'
	option device 'radio0'
	option network 'lan'
	option mode 'ap'
	option encryption 'psk2'
	option key 'xxxxxxxxxxxxxxxxxxxx'
	option disassoc_low_ack '0'
	option ssid 'Private'

config wifi-device 'radio1'
	option type 'mac80211'
	option hwmode '11a'
	option path 'platform/10180000.wmac'
	option legacy_rates '1'
	option htmode 'HT40'
	option channel '60'
	option txpower '0'

config wifi-iface 'default_radio1'
	option device 'radio1'
	option network 'lan'
	option ssid 'BuggedRadioWorkaround'
	option mode 'monitor'

config wifi-iface
	option device 'radio0'
	option mode 'ap'
	option disassoc_low_ack '0'
	option network 'guest'
	option encryption 'psk2+ccmp'
	option key 'xxxxxxxxxxxxxxxx'
	option ssid 'Guest'
	option isolate '1'


# /etc/config/firewall

config defaults
	option syn_flood '1'
	option input 'ACCEPT'
	option output 'ACCEPT'
	option forward 'ACCEPT'

config zone
	option name 'lan'
	option input 'ACCEPT'
	option output 'ACCEPT'
	option forward 'ACCEPT'
	option network 'lan'

config zone
	option name 'wan'
	option input 'REJECT'
	option output 'ACCEPT'
	option forward 'REJECT'
	option masq '1'
	option mtu_fix '1'
	option network 'wan wan6'

config forwarding
	option src 'lan'
	option dest 'wan'

config include
	option path '/etc/firewall.user'

config zone
	option input 'ACCEPT'
	option output 'ACCEPT'
	option name 'guest'
	option forward 'ACCEPT'
	option network ' '

config forwarding
	option dest 'wan'
	option src 'guest'