Dear All,
First of all, I'm new to OpenWrt and have zero experience with Linux, so that's already a good start right? Nevertheless I'm trying to setup OpenWrt on my "NETGEAR WNDR3700" by using LuCI and I think I've got everything figured out, except one thing: enabling my phone to access my NAS from anywhere in the world. I would appreciate if someone could help me with it, or point me in the right direction. (and even make it more safe)
So here's what I've done so far:
Started with OpenWrt "custom settings"
Created a static lease for my NAS
Followed the guide for DDNS https://openwrt.org/docs/guide-user/services/ddns/client
Followed the guide for Port Forwarding https://www.cfos.de/en/cfos-personal-net/port-forwarding/openwrt.htm (with a few minor adjustments, see screenshot)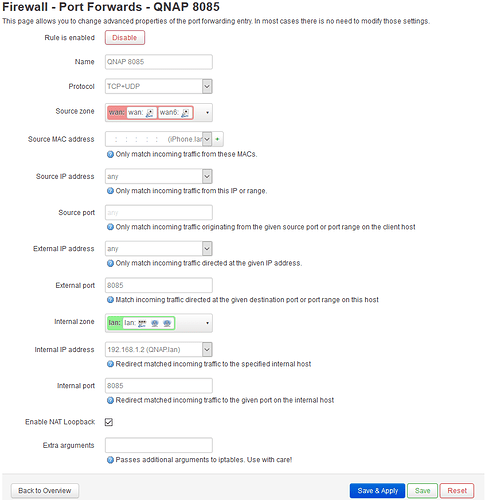 Now... the good part is that my phone is able to access my NAS by using the DDNS address when I'm on my own wifi network, but the moment I switch to "4G" (Mobile data) it does not work anymore.
Regards,