Hi,
I'm using OpenWRT 19.07 and configured the following Firewall rule (via LuCI):
Protocol: TCP
Source zone: WAN
External port: 443
Destination zone: LAN
Internal IP address: 192.168.1.5
Internal port: 61000
because I have an application running behind a Traefik proxy on port 443, so when I access https://mydomain:61000 I expect to see that application.
The problem is that, after adding that rule (and also restarting the router), port 61000 seems to be still closed!
The output of tcpdump says:
19:40:40.020622 IP (tos 0x0, ttl 64, id 34373, offset 0, flags [DF], proto TCP (6), length 60)
    192.168.1.5.34832 > MYIP.61000: Flags [S], cksum 0x810a (incorrect -> 0x65a6), seq 72278350, win 64240, options [mss 1460,sackOK,TS val 493153586 ecr 0,nop,wscale 7], length 0

Checking that port on https://www.yougetsignal.com/tools/open-ports/ says that it's closed!
What am I doing wrong or missing?
P.s. the Firewall is configured as following: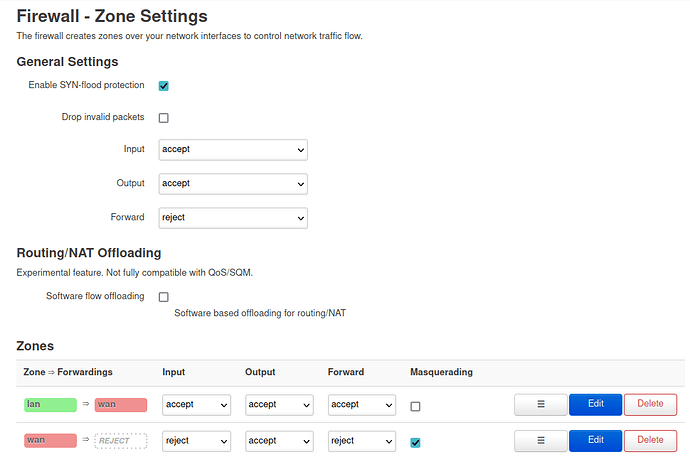 is that correct?
Thanks