I have OpenWrt 18.06.2 installed on a LinkSys wrt1900ac.
I have several zones that are separated from each other with vlans. Two of the zones are meant for normal home users (lan and guest). And I have a separate zone (srv) meant for servers that host some internet hobby projects that I want to keep separate from my home network for various reasons.
Looks like this: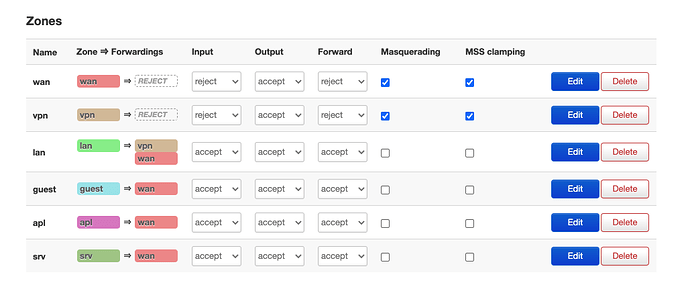 I want to expose some ports from the srv zone to the internet, so I wrote some basic port forwarding rules. For example:
config redirect
option name 'code'
option target 'DNAT'
option proto 'tcp udp'
option src_dip '52.128.23.153'
option src_dport '2262'
option dest_ip '192.168.4.62'
option dest_port '22'
option dest 'srv'
option src 'wan'
This works fine when connecting from outside my router, to my public IP (I'm using 52.128.23.153 as an example) on port 2262 in this case.
But when I try to access this from an internal zone, for example from the lan zone to this public IP it fails. How can I fix this redirect rule?
I'm thinking it might have something to do with having more than one NAT in the route. That is the route might look like this: lan -> (NAT) -> wan -> (NAT) -> srv.
I know the redirect rules are working for the external case but not from internal because I looked at iptables-save. For example I reset the firewall and try to access from an internal zone, all rules have zero counts:
root@OpenWrt:~# iptables-save -c | grep code
[0:0] -A zone_srv_postrouting -s 192.168.4.0/24 -d 192.168.4.62/32 -p tcp -m tcp --dport 22 -m comment --comment "!fw3: code (reflection)" -j SNAT --to-source 192.168.4.1
[0:0] -A zone_srv_prerouting -s 192.168.4.0/24 -d 52.128.23.153/32 -p tcp -m tcp --dport 2262 -m comment --comment "!fw3: code (reflection)" -j DNAT --to-destination 192.168.4.62:22
[0:0] -A zone_wan_prerouting -d 52.128.23.153/32 -p tcp -m tcp --dport 2262 -m comment --comment "!fw3: code" -j DNAT --to-destination 192.168.4.62:22

If I then access from an external IP, I see non-zero counts:
root@OpenWrt:~# iptables-save -c | grep code
[0:0] -A zone_srv_postrouting -s 192.168.4.0/24 -d 192.168.4.62/32 -p tcp -m tcp --dport 22 -m comment --comment "!fw3: code (reflection)" -j SNAT --to-source 192.168.4.1
[0:0] -A zone_srv_prerouting -s 192.168.4.0/24 -d 52.128.23.153/32 -p tcp -m tcp --dport 2262 -m comment --comment "!fw3: code (reflection)" -j DNAT --to-destination 192.168.4.62:22
[1:60] -A zone_wan_prerouting -d 52.128.23.153/32 -p tcp -m tcp --dport 2262 -m comment --comment "!fw3: code" -j DNAT --to-destination 192.168.4.62:22

Here is my firewall config:
config defaults
	option syn_flood '1'
	option input 'ACCEPT'
	option output 'ACCEPT'
	option forward 'DROP'

config zone
	option name 'wan'
	option network 'wan wan6'
	option output 'ACCEPT'
	option masq '1'
	option mtu_fix '1'
	option input 'REJECT'
	option forward 'REJECT'

config zone
	option name 'vpn'
	option network 'vpn'
	option output 'ACCEPT'
	option mtu_fix '1'
	option masq '1'
	option input 'REJECT'
	option forward 'REJECT'

config zone
	option name 'lan'
	option network 'lan'
	option input 'ACCEPT'
	option output 'ACCEPT'
	option forward 'ACCEPT'

config zone
	option name 'guest'
	option network 'guest'
	option output 'ACCEPT'
	option forward 'ACCEPT'
	option input 'ACCEPT'

config zone
	option name 'apl'
	option network 'apl'
	option output 'ACCEPT'
	option forward 'ACCEPT'
	option input 'ACCEPT'

config zone
	option name 'srv'
	option network 'srv'
	option output 'ACCEPT'
	option forward 'ACCEPT'
	option input 'ACCEPT'

config forwarding
	option src 'guest'
	option dest 'wan'

config forwarding
	option src 'apl'
	option dest 'wan'

config forwarding
	option src 'srv'
	option dest 'wan'

config forwarding
	option src 'lan'
	option dest 'vpn'

config forwarding
	option src 'lan'
    option dest 'wan'

config rule
	option name 'Allow-DHCP-Renew'
	option src 'wan'
	option proto 'udp'
	option dest_port '68'
	option family 'ipv4'
	option target 'ACCEPT'

config rule
	option name 'Allow-Ping'
	option src 'wan'
	option proto 'icmp'
	option icmp_type 'echo-request'
	option family 'ipv4'
	option target 'ACCEPT'

config rule
	option name 'Allow-IGMP'
	option src 'wan'
	option proto 'igmp'
	option family 'ipv4'
	option target 'ACCEPT'

config rule
	option name 'Allow-DHCPv6'
	option src 'wan'
	option proto 'udp'
	option src_ip 'fc00::/6'
	option dest_ip 'fc00::/6'
	option dest_port '546'
	option family 'ipv6'
	option target 'ACCEPT'

config rule
	option name 'Allow-MLD'
	option src 'wan'
	option proto 'icmp'
	option src_ip 'fe80::/10'
	list icmp_type '130/0'
	list icmp_type '131/0'
	list icmp_type '132/0'
	list icmp_type '143/0'
	option family 'ipv6'
	option target 'ACCEPT'

config rule
	option name 'Allow-ICMPv6-Input'
	option src 'wan'
	option proto 'icmp'
	list icmp_type 'echo-request'
	list icmp_type 'echo-reply'
	list icmp_type 'destination-unreachable'
	list icmp_type 'packet-too-big'
	list icmp_type 'time-exceeded'
	list icmp_type 'bad-header'
	list icmp_type 'unknown-header-type'
	list icmp_type 'router-solicitation'
	list icmp_type 'neighbour-solicitation'
	list icmp_type 'router-advertisement'
	list icmp_type 'neighbour-advertisement'
	option limit '1000/sec'
	option family 'ipv6'
	option target 'ACCEPT'

config rule
	option name 'Allow-ICMPv6-Forward'
	option src 'wan'
	option dest '*'
	option proto 'icmp'
	list icmp_type 'echo-request'
	list icmp_type 'echo-reply'
	list icmp_type 'destination-unreachable'
	list icmp_type 'packet-too-big'
	list icmp_type 'time-exceeded'
	list icmp_type 'bad-header'
	list icmp_type 'unknown-header-type'
	option limit '1000/sec'
	option family 'ipv6'
	option target 'ACCEPT'

config rule
	option name 'Allow-IPSec-ESP'
	option src 'wan'
	option dest 'lan'
	option proto 'esp'
	option target 'ACCEPT'

config rule
	option name 'Allow-ISAKMP'
	option src 'wan'
	option dest 'lan'
	option dest_port '500'
	option proto 'udp'
	option target 'ACCEPT'

config include
	option path '/etc/firewall.user'

config rule
	option name 'Guest DNS'
	option src 'guest'
	option proto 'tcp udp'
	option dest_port '53'
	option target 'ACCEPT'

config rule
	option name 'Guest DHCP'
	option src 'guest'
	option proto 'tcp udp'
	option dest_port '67-68'
	option target 'ACCEPT'

config rule
	option name 'Appliance DNS'
	option src 'apl'
	option proto 'tcp udp'
	option dest_port '53'
	option target 'ACCEPT'

config rule
	option name 'Appliance DHCP'
	option src 'apl'
	option proto 'tcp udp'
	option dest_port '67-68'
	option target 'ACCEPT'

config rule
	option name 'Server DNS'
	option src 'srv'
	option proto 'tcp udp'
	option dest_port '53'
	option target 'ACCEPT'

config rule
	option name 'Server DHCP'
	option src 'srv'
	option proto 'tcp udp'
	option dest_port '67-68'
	option target 'ACCEPT'

config redirect
	option name 'code'
	option target 'DNAT'
	option proto 'tcp udp'
	option src_dip '52.128.23.153'
	option src_dport '2262'
	option dest_ip '192.168.4.62'
	option dest_port '22'
	option dest 'srv'
	option src 'wan'

config redirect
	option name 'svn'
	option src 'wan'
	option target 'DNAT'
	option src_dip '52.128.23.153'
	option src_dport '3690'
	option dest_ip '192.168.4.62'
	option dest_port '3690'
	option proto 'tcp'
	option dest 'srv'