Hi, my intended network setup is as follows: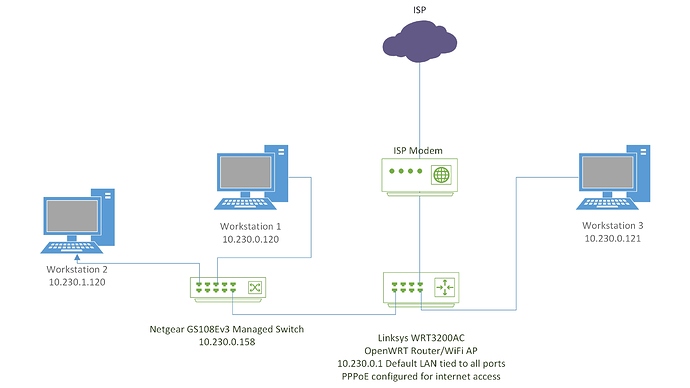 View high-resolution
I have a Linksys WRT3200ACM running OpenWRT as a Router/Wireless Access Point, that gets WAN from the ISP modem. There is one LAN, the default one, that I connfigured to use 10.230.0.1 as the IP address, and that LAN has a DHCP server that hands out 10.230.0.x IP addresses to my devices. There is one device, which is a Hyper-V server (Workstation 2 in the picture), and Workstation 1, that are in the same room, and I would Worsktation 2 to be in a different VLAN, such as 10.230.1.1. I have purchased an 8-Port Netgear GS108Ev3 Managed Switch and connected it to the router. Then, I connected one cable to each workstation. What I want to know, is how to put Workstation 2 in a different VLAN than Workstation 1, given that they are connected to a Managed Switch? If each workstation were connected to a physical port in the router, I could easily do this, however, they are only technically connected to one physical port on the router. How would the router know which VLAN each workstation is on?