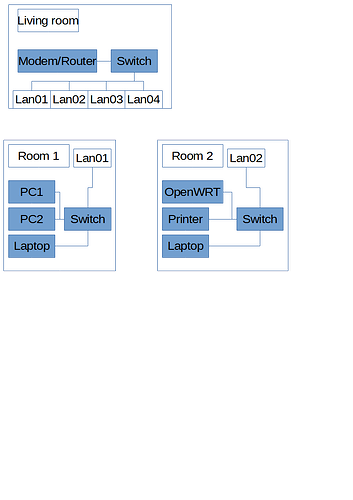 Hello, I am new to open wrt and it seems iam missing some vacabulary. I attached my home network at the given moment.
Cablemodem/router is a Vodafone Station which atm. acts also as DHCP server. Wifi is off.
All my rooms in the house have point to point cable connections which i did myself during rennovating the house.
So the genreal setup is atm the 2 mentioned rooms in my drawings have several PC/sLaptops which connect to a small switch which then connects to the eth. plug in the wall. The corresponding plug in the living room connects also to a switch and that switch then goes to the vodafone station. Everything runs on 1Gbps, stable and fine (kinda proud that my entire cabeling works)
What is depicted as Openwrt, is atm an old ASUS router which can not run openwrt and is so old that asus does not update it anymore and now has several massive security issues. The thing runs as access point and provides wifi to the entire house.
the idea is the following:
add a PiHole to filter Ads and other stuff on network level. It turns out i cannot reroute the DNS sever on the vodafone station. The thing does not have the option and internet searches confirm that issue.

following idea was to get myself in the same run a new wifi router, replace the old asus, put openwrt on it. Let it act also as DHCP server, and then tell openwrt to tell the clients the PiHole is the DNS server.
I got myself a Fritzbox 4040 (no modem included, as i will change to fiber in the coming months) and managed to get openwrt on it. I have a raspi with installed pihole on it.
But the issue seems that the position of the openwrt is in room 2, there is no direct connection from the WAN port to the modem possible. Its only the lan connection. otherwise the other clients in that room are out.
So how i configure this mess to operate as i want. I deactivated the DHCP server on the vodafone station and gave it 192.168.0.1 as static ip. Openwrt got 192.168.0.2 and the DHCP activated.
Openwrt seems to want to route internet via the WAN port which is not connected. I need to tell it "Hey use 192.168.0.1 as your door to the internet.
I think i have to put the vodafone station in bridge mode (which is possible via the web interface from vodafone) but the rest of the configuration in openwrt eludes me.
So if one could direct me to the right vacabulary what to search or a guide or something would be gread. thx