I've installed OpenWrt (18.06.2) on my new TP-Link Archer C7 v5 (EU).
Installation was easy and it seems to run good.
There is a strange behavior when I'm logged in in LuCI Web Interface with "AUTO REFRESH ON": There are a lot of reverse DNS lookups for private IP addresses at my Pi-hole server and a lot of open UDP connections on port 53 at OpenWrt.
These rDNS resolutions, every 5 seconds, fill my log at the Pi-hole. It's not a kind of not-working but it's a kind of not-nice.
It would be fine, if these rDNS could be stopped.
If I switch off "AUTO REFRESH" there are no reverse DNS requests from OpenWrt.
Note: The rDNS resolutions are not on every screen on LuCI but for example on the screen "Overview" Screen (Menu "Status") or at "Realtime Graphs".
I guess, it's not good/okay to have reverse DNS lookups every five seconds.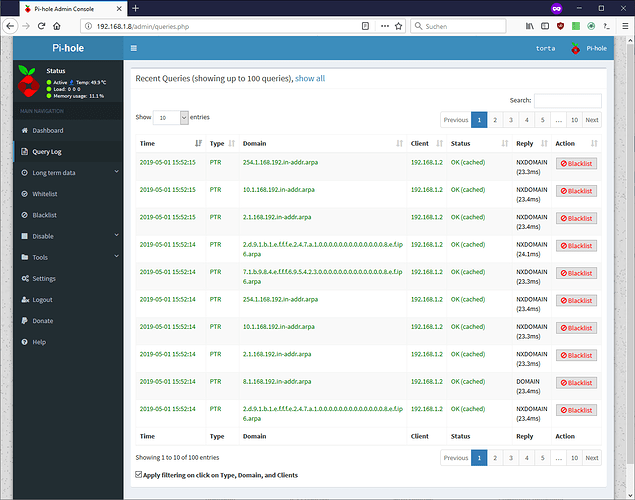 My setup:
Gateway/Router (VDSL) 192.168.1.254

OpenWrt 192.168.1.2 (as access point: firewall, dnsmasq and odhcpd are disabled)

Pi-hole (with unbound) 192.168.1.8

static IP addresses: (PC 192.168.1.10, HTPC 192.168.1.20)

Smartphone (dyn. IP, currently form the gateway access point)
My only DHCP server is the Pi-hole. DHCP server at the gateway (router) and the WLAN router are deactivated.
Note: I have to use the Pi-hole as DHCP server, because I cannot change the DNS-server at my router.